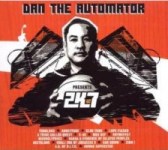 Dan the Automator presents
2K7
Decon

Rating:





When you pay a bunch of top-caliber rappers ridiculous amounts of money to create the soundtrack for a basketball-themed video game, you're gonna get thirteen tracks that sound, well, strained.
That's not to say rappers have never produced any memorable songs about basketball. J-Zone used the sport to great effect on his 2004 number "A Friendly Game of Basketball" (off the album A Job Ain't Nothin' But Work), which was actually about dissing other emcees (since J-Zone's game is apparently just sooooo much tighter). Yet the verses on 2K7 are spotty at best.
For example, take E-40 and San Quinn's "Baller Blockin'". Known as the patron saint of Yay Area slang, E-40 sounds ingenious when he tackles subjects he actually cares about (I'll spare you the line about Jesus Christ having dreads since it's already been massaged to death). Evidently, basketball isn't one of them. It's not as if 40 Water plummets to yet-unseen levels of mediocrity on 2K7. He does regale us with such little gems as "Earth is my turf, up and down them basketball court/Sometimes I get (squeaking sound) 'cuz of the way I wear my shorts." But he definitely sounds like a grudging accomplice to his own exploitation, (i.e. someone who's allowing his lyrics to be pimped). Same goes for San Quinn, who already had a bad habit of rhyming "broad" with "broad" and "sun" with "sun" (like, you know, "Phoenix Suns/Hot as the sun"). Here, he does it with gusto.
Since nobody's actually saying shit, we're forced to focus on the production, which also varies in quality. (Granted, it's hard to cut Dan the Automator any slack after the staggering genius that was Dr. Octagon and Handsome Boy Modeling School.) The beat for Mos Def & Anwar Superstar's "Here Comes the Champ" is Street Fighter-caliber fare, but a lot of the tracks are worth skipping over. Even the Automator remix of A Tribe Called Quest's "Lyrics to Go" is at the level of Mario Kart or Donkey Kong.
To be fair, 2K7 isn't cluttered with throwaways. As far as video game soundtracks go it can definitely hold its own. But none of the verses and beats sound convincing, either. If you actually shell out cash for this album, you might be left feeling as though you've been played.
— Rachel Swan