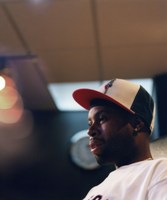 Want more music from James "J-Dilla" Yancey? Hot on the heels of Donuts, one of the best-received independent hip-hop albums of 2006, Stones Throw will add another J-Dilla release to its catalog. Like Donuts, Ruff Draft is an instrumental album that highlights the late producer's musical prowess. It's scheduled for release on March 6.
Astute fans will note the Ruff Draft EP appeared in 2003 on Dilla's Mummy Records (with distribution from Groove Attack). Much like 9th Wonder, MF Doom, the Alchemist and others with cultish appeal, J-Dilla often collected sundry instrumental material for breakbeat records targeted at DJs and collectors, a tradition that dates back as far as the 45 King's 1990 comp 45 Kingdom. In this vein, Ruff Draft is one of J-Dilla's better-known efforts (along with the excellent Vintage).
Stones Throw hasn't announced any future J-Dilla releases/re-issues beyond Ruff Draft, which will be supplemented with four unreleased cuts. Relatively new L.A. label Operation Unknown is planning to issue a new J-Dilla album, Jay Love Japan, in March.
In other news, Stones Throw is re-releasing Stones Throw 10 Years, a label retrospective originally issued in Europe, Japan and, in the U.S., exclusively through Guitar Center last summer. The new version features a mix CD by J-Rocc of the Beat Junkies, and hits stores on January 23.
www.stonesthrow.com
www.jdilla.org
www.myspace.com/jdilla
www.j-dilla.com