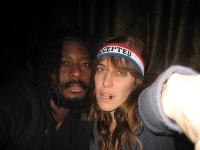 The last time Americans saw k-os (meaning knowledge of self) was at SXSW 2006, where he headlined a bill at Antone's. Supported by a band that included, oddly enough, onetime Smashing Pumpkins bassist Melissa Auf Der Mar, he closed his set by announcing he would no longer record for Astralwerks, the EMI imprint that issued his first two critically-acclaimed albums.
Some heads thought that this might be the last time the Canadian artist would get a full-fledged domestic release of his work and we'd have to find it on import, like most of Buck 65's catalog. But we forget that k-os is a superstar in his country. When his new album Atlantis debuted in the top 5 of the Canadian albums chart last October, it was clear he'd get another chance to crack the U.S. market. And so it is that Atlantis hits our territory on February 24 via Virgin, another arm of the EMI conglomerate.
In a press release, k-os described the disc as a more personal effort in contrast to the "hip-hop is life" themes of his earlier discs. "As an expressionist, I get to cleanse my emotions and thoughts through music so that they don't fester and become toxic," he said. "When an artist expresses their truth honestly and with a pure heart, they can end up speaking for a myriad of people. From a very specific experience can come a general understanding and healing."
The first single from Atlantis, "Elektrik Heat," is already gathering spins on VH-1 Soul. You can check out a stream of the song and the video through the link below.
Stream: Elektrik Heat (audio)
Stream: Elektrik Heat (video)
December 19 update:
Before Atlantis is released, k-os will journey throughout North America as part of Gym Class Heroes' national tour. Here are the dates:
02/17: Avalon Ballroom, Boston, MA
02/18: Revolution Hall, Troy, NY
02/20: Ohio Room – IU, Indiana, PA
02/21: 9:30 Club, Washington, DC
02/22: Webster Hall, New York, NY
02/23: Douglas Hall, Rochester, NY
02/25: Trocadero, Philadelphia, PA
02/26: Norva Theater, Norfolk, VA
02/27: Freebird Live, Jacksonville, FL
02/28: Culture Room, Fort Lauderdale, FL
03/01: The Club at Firestone, Orlando, FL
03/02: The Masquerade, Atlanta, GA
03/03: Rocketown, Nashville, TN
03/04: Bogart's, Cincinnati, OH
03/06: House of Blues, Cleveland, OH
03/07: The Intersection, Grand Rapids, MI
03/08: St. Andrews Hall, Detroit, MI
03/09: Opera House, Toronto, ON
03/10: Le National, Montreal, QC
03/11: Babylon, Ottawa, ON
03/13: Newport Music Hall, Columbus, OH
03/14: The Irving Theater, Indianapolis, IN
03/15: House of Blues, Chicago, IL
03/16: Pop's, Sauget, IL
03/17: Granada, Lawrence, KS
03/18: First Avenue, Minneapolis, MN
03/20: Gothic Theater, Denver, CO
03/21: Avalon Theater, Salt Lake City, UT
03/23: El Corazon, Seattle, WA
03/24: Hawthorne Theater, Portland, OR
03/25: The Boardwalk, Orangevale, CA
03/26: House of Blues, West Hollywood, CA
03/27: The Fillmore, San Francisco, CA
03/28: Soma, San Diego, CA
03/29: House of Blues, Anaheim, CA
03/30: Marquee Theatre, Tempe, AZ
03/31: Rialto Theatre, Tucson, AZ
04/01: Sunshine Theater, Albuquerque, NM
04/03: Gypsy Ballroom, Dallas, TX
w/Gym Class Heroes, P.O.S., RX Bandits
www.k-osmusic.com
www.myspace.com/kos