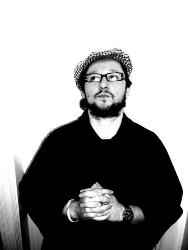 It's been a long journey for DJ Vadim. The Russian-born, UK-bred producer first came to attention over a decade ago, thanks to mind-bending joints like "Abstract Hallucinating Gases." His second album, 1996's U.S.S.R. Repertoire (The Theory of Verticality), is one of the best albums from the downtempo/post-Shadow period, taking deconstructionist turntablist techniques to absurdly minimalist conclusions. The years since have seen him evolve into a proponent of less-rigorous quietude; "Your Revolution," his controversial 1999 collabo with Sarah Jones, was a particular high point.
For most of that time, when not releasing new product on his now-defunct imprint Jazz Fudge, Vadim was rocking with Ninja Tune. With The Sound Catcher, however, Vadim is switching over to UK future soul imprint BBE. It makes sense: his last joint as a member of the group One Self (with Yarah Bravo and Blurum 13), Children of Possibility, seemed out of place amidst Ninja Tune's harder electronic sounds. Considering Vadim's new soulful direction, BBE is a natural fit.
So why should xenophobic Yanks care about this? Well, in a press release Vadim promises that The Sound Catcher is "by far my most concise, precise and best work to date," one that brings his restless experimentation to fruition. And everybody likes good music, right? The Sound Catcher is slated for April 16 in the UK, with a U.S. release shortly thereafter (if not on the same day).
Guests announced for the album include Abstract Rude ("Soundcatchers"), Skinnyman ("Ballistic Affairs"), Kathrin DeBoer ("Black is the Night"), Zion-I, Killa Kela and Jamalski (remember him from Boogie Down Productions?). And, unlike his last solo disc, the vocal-heavy The Art of Listening, this will also include the Vadim instrumentals that hip-hop DJs love. The first single is "Like the Wind" featuring Bay Area rapper Deuce Eclipse b/w "Boom Sumting" featuring Demolition Man.
www.djvadim.com
www.myspace.com/djayvadim