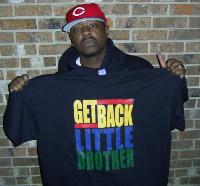 Little Brother, the acclaimed Raleigh, North Carolina trio, is now down to two members. In a January 27 story on HipHopGame.com, Big Pooh and Little Brother manager Big Dho revealed that rising producer 9th Wonder is no longer in the group.
"Little Brother has decided, in the best interest of the group, for Little Brother and 9th Wonder to part ways," said Big Pooh, who shares the group with Phonte Coleman. "There are no hard feelings and no beef. This is just a decision that had to be made so all three of us could move forward and continue to provide the world with dope music."
Big Pooh and Big Dho also revealed that they are trying to leave Atlantic Records. "First, I want to say that Little Brother has not been dropped from Atlantic," he told the hip-hop website. "At this time we are in the process of negotiating our release from the label due to a difference in philosophies."
Since late last year the group has talked up its forthcoming third album, Get Back. The title is a reference to the mixed reception their second album, The Minstel Show received upon its release in fall 2005. Big Dho said it may come out on another Warner Bros.-affiliated label: "I think we may just put the album out on Asylum to close our deal, but it's definitely a wrap for us at Atlantic."
Rumors surrounding Little Brother's status have swirled for months. When The Minstrel Show came out with less-than-robust promotion from Atlantic, many assumed the group would be dropped. Concurrently, when Big Pooh and Phonte Coleman completed several tours without 9th Wonder on the wheels of steel, many speculated that the producer was leaving the group. Talk intensified when Phonte told HipHopDx.com that 9th Wonder was only producing one track on Get Back. The outspoken Phonte, who set off several Internet storms with his MySpace blog posts last year, will undoubtedly say more about all this in the weeks ahead.
Little Brother will release a mixtape with DJ Mick Boogie, And Justus For All, on February 13. As a result of the recent police raid on DJ Drama and his Aphilliates Music Group (who put out a Little Brother mixtape, Separate but Equal, last year), And Justus for All will be a free download on the Internet. "Although outlets for mixtapes are scarce in the wake of the RIAA/DJ Drama drama, we are moving forward and will still make our music available for you to enjoy," writes Phonte on his MySpace page.
While the fate of Get Back remains uncertain, the members of Little Brother are working on separate projects. Big Pooh is recording his second solo album, which is tentatively titled Dirty Pretty Things. Phonte remains a popular guest vocalist. He appeared on DJ Shadow and Darien Brockington's albums last fall, and is featured on 4hero's forthcoming Play with the Changes.
www.myspace.com/littlebrother
www.myspace.com/rapperbigpooh