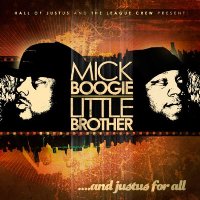 This morning, Cleveland DJ Mick Boogie and Durham, North Carolina's finest Little Brother posted And Justus For All for free on the Internet. It's the first offering from the group since producer 9th Wonder left the group. In fact, he only appears on two of the disc's 27 tracks. Instead, Phonte and Big Pooh enlist RJD2, Oddisee, DJ Babu, Khrysis and Midi Mafia to kick down beats. Talib Kweli, Mos Def, Kardinal Offishal, Skillz, Chaundon, Rhymefest, Supastition, Cormega, AZ and others contribute guest shots.
"I worked more closely with Mick on this mixtape than I have with any 'A&R' on any album I've ever done," says Phonte in a joint interview with Mick Boogie for popular blog Nah Right.
Mick Boogie adds, "I met Little Brother a couple years ago when they did a show in Cleveland, then I saw them last summer. They were familiar with my CDs so we discussed doing something together. We worked very hand in hand on this. Hundreds of emails back and forth discussing beats, concepts, ideas, skits, promotion, guests? you name it. Definitely the most hands on I've ever been on any project."
You can download And Justus for All through several websites, including here, here and here.
In related news, Phonte posted a bulletin on Little Brother's MySpace page about 9th Wonder's defection from the group. "Just know that Pooh and I will be as committed as we always were to delivering top notch material," he writes. "I was making music long before I had a record deal, and will continue to do so afterwards. I'm an artist, not an act." Still no word on Get Back, though.
www.myspace.com/littlebrother
www.myspace.com/mickboogie