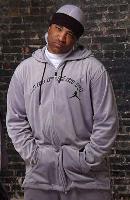 Over a year after the announcement, KRS-One and Marley Marl have set a release date for their historic collaboration. According to an Allhiphop.com news item, Hip-Hop Lives will drop via Koch Records on May 22.
Hip-Hop Lives marks a coda to a legendary beef between one of hip-hop's greatest MCs and one of its greatest producers. With beats by Marley Marl, who had just made his mark with Roxanne Shante's "Roxanne's Revenge," MC Shan released his seminal "The Bridge" in 1986 as a tribute to the two's Queens hometown. KRS-One, then a fledgling MC in Boogie Down Productions with the late Scott La Rock, answered with "South Bronx." The two went back and forth — MC Shan dropped "Kill That Noise," and KRS-One put out "The Bridge Is Over," one of the greatest dis songs of all time. The two camps have long since patched up their differences.
In the Allhiphop.com story, Marley Marl says, "My reason for doing this is to show these kids that [Hip-Hop beefs] are not that serious." However, Hip-Hop Lives appears twenty years after "South Bronx" (and a decade after KRS-One and MC Shan appeared in a Sprite commercial), which doesn't bode well for the G-Unit/Dipset/Jay-Z beefs.
In related news, KRS-One has completed a new solo album, Spitakular, that should come out this year. Marley Marl holds it down Friday nights from 2-4 a.m. on Power 105.1 (WWPR-FM).