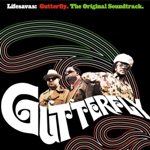 Lifesavas
Gutterfly: The Original Soundtrack
Quannum Projects

Rating:





As the first artist outside the original Solesides camp to join Quannum Projects, Lifesavas seems like the next wave, even if, at this juncture, they are becoming part of the firmament of underground backpack rap stars. Also, like many of the new millennial artists, they lack the visionary zeal that marked Solesides' finest recordings (Gift of Gab's Nia, Latyrx's self-titled single). They traffic in proletarian styles: beats and rhymes, funk and soul, and intellect and social awareness. When hearing their music, you don't get the sense of creative revelation as much as affirmation of spirit.
There's nothing wrong with that, of course, and Gutterfly is solidly in the pocket. From the get-go, Lifesavas jump out the box with "Double Up," a bumper built around Oh No's sample of Quasimoto's "Players of the Game." "Gutterfly" (featuring an animated appearance from Camp Lo) and "No Surprise" up the ante with dark and bass-ridged cuts. "The Warning" crafts tweeter-rattling supersonics. And MC/producer Jumbo the Garbageman makes jungle beats that sound otherworldly, strange and super-deep.
While the premise for Gutterfly is a soundtrack for a nonexistent Blaxploitation film narrated by Ike Willis, the group's devotion to Christian ideals remains visible, if not as problematic on Spirit in Stone (where they memorably spoke out against abortion). Religious imagery crops up in the titles "A Serpent's Love" and "Superburn." "Before this bubble's burst and the mystery's revealed/Let's commence the jam session while accepting God's will/Show the ancestors watching we were feeling their pains/They say that life is only worth the life you're willing to save," raps Vursatyl on "Take Me Away." More effectively, Lifesavas team with Fishbone for "Dead Ones," a sermon disguised as a New Orleans funeral dirge. "Many are rich with poor excuses/Looking for the answers screaming they're born losers/Poor people's dreams are rich exclusives/Right now, we live forever for the dead ones and prove that/Leaving a legacy is more than music/The truth is, I've got no other choice but choose this/C'mon fam, let go/Catch your breath and let's grow," rhymes Jumbo over a slow swing rhythm.
Using Blaxploitation signifiers like heavy funk and slick rhymes to warn people of the dangers of the player lifestyle is an ingenious move, and Gutterfly is a solid effort. If it doesn't sound transcendent, it's only because Lifesavas are decidedly salt of the Earth, too busy signifying to the masses to reach to the heavens.
May 2 update: After much contemplation, I've decided to change this rating from three-and-a-half to four stars. Here are my reasons.
On the one hand, Gutterfly is amazingly consistent. There isn't a bad track on the album, and a few of the cuts — "Double Up," "The Warning" and the rousing finale "Celebrate" — are outstanding. On the other hand, the music isn't impressively innovative. For all of Jumbo's production talents, he's simply expanding on a template that is part and parcel with West Coast culture, and dates back at least to Shadow's awesome soundscape on Latyrx's self-titled classic.
So what makes an interesting album good, and even great? Is it new sounds you've never heard before, or timeless music that simply moves you? Take a listen to Gutterfly for yourself. It's worth the effort.