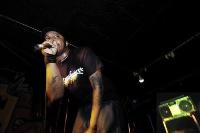 For the past twelve years, the Vans Warped Tour has spread across America, bringing a mixture of mainstream punk bands eager to sell out and corporate sponsors eager to reach our nation's impressionable youth. And each installment includes a few token rappers eager to expand their reach beyond the backpack nerds who normally attend their concerts. It's like back in the 60s, when rock festival promoters would salve their liberal consciences by adding a few black artists to the bill.
As sucky as Warped Tour has become can — a tour that once prided itself on carrying one major sponsor (Vans shoes) is now backed by AT&T, for chrissakes — it can have a major effect on artists' careers. Atmosphere, the Alkaholiks and many others can thank Warped Tour for ballooning their fan base. And we all know what Warped did for Gym Class Heroes.
This year, the 13th edition of Warped Tour will include Canadian musician K-os and Rhymesayers prospect P.O.S. (shown in photo) along with Adult Swim alum MC Chris on select East Coast dates among the hordes of emo nincompoops. (Okay, not all of the rock bands suck: Coheed & Cambria, Fishbone and Bad Religion will be there, too.) Tour dates are below.
6/29: Pomona Fairgrounds, Pomona, CA
6/30: Seaside Park, Ventura, CA
7/01: Shoreline Amphitheatre, Mountain View, CA
7/03: Thunderbird Stadium at UBC, Vancouver, BC
7/05: Race City Speedway, Calgary, AB
7/07: Utah State Fairpark, Salt Lake City, UT
7/08: Invesco Field at Mile High, Denver, CO
7/11: Cricket Pavilion, Phoenix, AZ
7/12: NMSU Practice Field, Las Cruces, NM
7/13: Amphitheater Lot, San Antonio, TX
7/14: Smirnoff Centre, Dallas, TX
7/15: Reliant Center, Houston, TX
7/18: HiFi Buys Amphitheatre, Atlanta, GA
7/19: Reynolds Park Yatch Center, Jacksonville, FL
7/20: Vinoy Park, St. Petersburg, FL
7/21: Bicentennial Park, Miami, FL
7/22: Tinker Field, Orlando, FL
7/23: Verizon Wireless Amphitheatre, Charlotte, NC
7/24: Verizon Wireless Amphitheatre, Virginia Beach, VA
7/25: Merriweather Post Pavillion, Washington, DC
7/26: Montage Mountain Amphitheatre, Scranton, PA
7/27: Comerica Park and Street, Detroit, MI
7/28: First Midwest Bank Amphitheatre, Chicago, IL
7/29: Metrodome Parking Lot, Minneapolis, MN
7/31: Marcus Amphitheatre, Milwaukee, WI
8/01: Riverbend Music Center, Cincinnati, OH
8/02: Tower City Amphitheater, Cleveland, OH
8/03: Tweeter Center at the Waterfront, Philadelphia, PA
8/04: Nassau Coliseum, New York, NY
8/05: Raceway Park, Englishtown, NJ
8/07: Verizon Wireless Music Center, Indianapolis, IN
8/08: Post Gazette Pavilion, Pittsburgh, PA
8/09: Tweeter Center, Boston, MA
8/10: Darien Lakes Fields, Buffalo, NY
8/11: Park Place, Barrie, ON
8/12: Parc Jean-Drapeau, Montreal, QC
8/14: Verizon Wireless Amphitheater, St. Louis, MO
8/15: Verizon Wireless Amphitheater, Kansas City, KS
8/17: Idaho Center, Boise, ID
8/18: The Gorge Amphitheatre, Seattle, WA
8/19: Columbia Meadows, Portland, OR
8/22: Selland Arena, Fresno, CA
8/23: Sleep Train Amphitheater, Sacramento, CA
8/24: Coors Amphitheatre, San Diego, CA
8/25: Home Depot Center, Los Angeles, CA