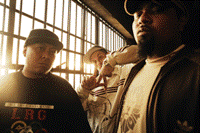 Decon Media, a New York-based creative agency and record label, has been issuing hip-hop related projects for much of the decade. Its highlights range from DVDs (Team Ice Cream Vol. 1, a video featuring Pharrell Williams' Ice Cream Skake Team) and music videos (Common's classic "1-9-9-9" clip) to audio/visual endeavors (the Hiero crew's One Big Trip) to standard hip-hop compilations (the ongoing NBA 2K series) and artist albums (Aceyalone's critically lauded Magnificent City).
This summer will bring a new slate of Decon Media releases. It kicks off with The Release Party from Dilated Peoples, a 3DM project. (3DM stands for Three Dimensional Media, the format Decon uses for its DVD/CD endeavors.) The DVD portion accumulates a decade of video footage featuring the L.A. vets, from their early ABB salad days to their Capitol years. The CD will include several songs, the first material they've issued since that Capitol deal ended last year. The Release Party drops on July 31.
Next up comes Project Blowed's Ken Can Cook. "Kenny Segal is one of Project Blowed's in-house beat makers and has partnered with Decon to create a culinary inspired 3DM," reads the press bio. "The project features Aceyalone, Busdriver, Abstract Rude with inspired appearances by artists like Medusa, Riddlore and others cooking their favorite secret recipes. A buffet of beats, lyrics, and laughs make this goodness for your eyes and ears – Iron Chef Hip-Hop!!"
Other forthcoming releases include All Pro, a compilation created by DJ Z-Trip for EA Sports' All-Pro Football 2K8 game. Guests range from Deftones to dead prez, and it's slated to drop this summer.