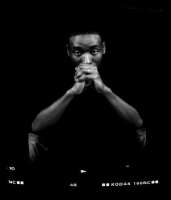 The last several months have been quiet ones for 9th Wonder. Once widely hailed, and sometimes criticized, for his productivity — in 2005 alone he produced several albums, from Little Brother's The Minstrel Show to Kaze's Spirit of '94 — he's mostly stuck to the lab in 2007, even as wild rumors surrounding his departure from Internet faves Little Brother surrounded him.
9th's absence will end this fall, however, with the incipient arrival of Dream Merchant 2. The first edition, released in 2005, was strictly an in-house affair with his longtime crew the Justus League. Volume 2 will be considerably more high-profile, with guest shots from Sean Price, Camp Lo, Royce da 5′ 9″, Saigon, Buckshot, Naledge from Kidz in the Hall and a slew of fam like Joe Scudda and Skyzoo. It will also include the "Brooklyn on My Mind" track with Jean Grae, Mos Def and Memphis Bleek that circulated earlier this year. And, yes, it will feature a Little Brother reunion.
Dream Merchant 2 will likely be just one of several 9th Wonder-affiliated projects that drops before the year is out. Others include Median's Relief (due out September 25) and possibly The Formula, the sequel to his Chemistry collabo with Buckshot.
But first, Dream Merchant 2, which drops October 9 on Six Hole Records. The track listing is below.
1. "Mr. Dream Merchant (intro)"
2. "Shots" (feat. Big Dho & Sean Price)
3. "Merchant of Dreams" (feat. the Embassy, Skyzoo, & Torae)
4. "Brooklyn in My Mind" (feat. Mos Def, Jean Grae & Memphis Bleek)
5. "Sunday" (feat. Keisha Shontelle & Chaundon)
6. "Baking Soda" (feat. Big Treal)
7. "Reminisce (Take Time)" (feat. Big Remo & the Great Novej)
8. "No Time To Chill" (feat. Little Brother)
9. "It Ain't Over" (feat. Jozeemo & Tyler Woods)
10. "The Last Time" (feat. Royce the 5'9″, Naledge & Vandalyzm)
11. "Saved" (feat. Saigon & Joe Scudda)
12. "Milky Lowa" (feat. Camp Lo)
13. "Backlash" (feat. Sean Boog & Buckshot)
14. "Thank You" (feat. D.O.X & O-Dash)
15. "Let It Bang" (feat. Ness & Skyzoo)
16. "What Makes A Man" (feat. Big Pooh & Buddy Klein)
www.9thwonder.com
www.myspace.com/9thwondermusic