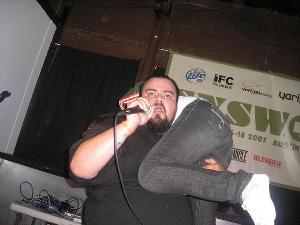 Two months ago, L.A. veteran 2Mex sent out a MySpace post announcing "We Book Our Own Tour," a DIY adventure across the United States. "In true D.I.Y. fashion, these artists are taking control of their own destinies," he wrote. " 'We Book Our Own Tour' is going to be a monumental 50-60 city tour completely booked by the artists. Be a part of this event and help make ghetto history for underground Hip-Hop."
Well, 2Mex is finally about to head out on the road. While the schedule isn't as impressively long as 60 dates — although dates are still being added — it is a two-month journey that will course through towns big (New York City) and relatively small (Manzanita, Oregon). Joining him will be Life Rexall, 2Mex's collaborator in last year's $martyr project; Shapeshifters member Existereo; and DJ Pickster One.
As an underrated rap vocalist, 2Mex will bring the freestyle gospel throughout the tour/road trip. Normally a prolific artist, he doesn't have any product on the market, since he's working on a major label-distributed album for 2008. Curious heads are advised to purchase a copy of his 2001 underground classic, B Boys in Occupied Mexico.
The tour dates are below.
8/07: Voodoo Lounge, San Jose, CA
8/10: Blue Lamp, Sacramento, CA
8/11: The Past Time, Truckee, CA
8/12: The Junk Yard at Dee's, Reno, NV
8/14: Bruno's, San Francisco, CA
8/15: Red Fox Tavern, Eureka, CA
8/17: John Henry's, Eugene, OR
8/18: Berbati's Pan, Portland, OR
8/19: Hoffman Center Annex Building, Manzanita, OR
8/20: The Clipper, Olympia, WA
8/21: Nectar, Seattle, WA
8/22: Nightlight Lounge, Bellingham, WA
8/23: The Zombie Room, Spokane, WA
8/24: Zebra Cocktail Lounge, Bozeman, MT
8/25: The Badlander, Missoula, MT
8/27: Urban Lounge, Salt Lake City, UT
8/31: The Summit, Durango, CO
9/03: Mooch and Burn, Tulsa, OK
9/06: Dinkytowner, Minneapolis, MN
9/09: The Picador, Iowa City, IO
9/10: Sapphire Lounge, Columbia, MS
9/15: McGanns, Boston, MA
9/18: The Knitting Factory : Tap Bar, New York, NY
9/22: Laundry Bar, Miami Beach, FL
9/23: Shantytown Pub, Jacksonville, FL
9/27: Tantra House, San Marcos, TN
9/28: Rock Bottom Tattoo Bar, San Antonio, TX
10/02: Solar Culture, Tucson, AZ
10/04: Hollywood Alley, Mesa, AZ