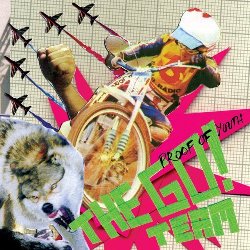 The Go! Team
Proof of Youth
Sub Pop

Rating:





First championed and flowered with hosannas by bloggerati two years ago, the Go! Team defines the word mashup. The British group speckles its upbeat anthems with references to Northern Soul, breakbeats similar to the Freestylers and Chemical Brothers, golden age hip-hop, and European twee pop a la the Concretes and Belle & Sebastien. Its best songs cull from those elements all at once, leading to songs that continually reveal new sounds like a cacaphonous urban environment. If the UK has been obsessed with sampling since the days of Trevor Horn and Malcolm McLaren's Duck Rock, then the Go! Team takes that obsession to the extreme.
The release of the Go! Team's Thunder, Lightning, Strike! was delayed several months in the U.S. because of sample clearance issues; by the time it came out, most of its fans had either bought it on import or downloaded it from the Internet. Chastened by the experience, they rely more heavily on a backing band for Proof of Youth, and carefully add a few samples to the assault. The difference is noticeable. Without the quick-fire edits and jump cuts that made their 2005 debut sound like the best 70s action movie you never actually saw, the Go! Team's repertoire doesn't snap and crackle like it used to.
While the Go! Team aren't as explosive as producer/multi-instrumentalist Ian Parton, a side musician or two and a crate of records — to be fair, if Thunder is any indication, few groups can match him — Proof of Youth has its share of multi-dimensional jams. On "My World" they lift some analog synth lines out of Boards of Canada's playbook. "Fake ID," starring the great poptronica musician Solex, shambles along with sweetness and purpose. The opening notes of "Titanic Vandalism" hits as hard as DJ Shadow circa "Mutual Slump." Many of the tracks feature cheerleader-like vocals and old-school raps, styles currently popular amidst the club rap set, from group rappers Chi Fukami Taylor & Kaori Tsuchida as well as the Frederick Douglas All Star Cheer Team and the Rapper's Delight Club. The result sounds like a happily riotous high school football pep rally.
The Go! Team seem surprisingly homogenous considering all of the sonic influences they use. Their tracks, save for the aforementioned "My World," pop along at the same bubbly pace. The vocals, even Chuck D.'s guest shot on "Flashlight Fight," are nearly buried within the noise; the main point is the overall sound, not the individual songs and performances. If it were an hour or longer, Proof of Youth would quickly turn into an annoying pest. By racing to the finish line at a little over 35 minutes, the Go! Team play happily without wearing out their welcome.