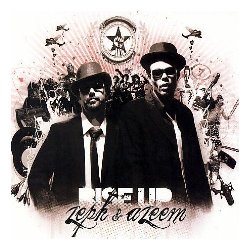 Zeph & Azeem
Rise Up
Om

Rating:





On Rise Up, Bay Area reps Zeph & Azeem proudly sustain their region's historically activist spirit. But in contrast to more obstinate revolutionary hip-hop acts, this producer/MC duo doesn't constantly shove conspiracy theories down listeners' throats nor do they sacrifice the potency of their beats. Instead their full-length debut is centered on uplifting poetics and party-worthy production—a formula that often holds up well.
The title track, "Rise Up" perfectly captures the duo's potential. Here, Zeph's bottom heavy glitch-meets-dancehall beat undulates while Azeem animatedly flows along utilizing his self-described "medicinal" raps. As a longtime DJ, Zeph ensures that his backdrops consistently bump, whether tapping into bouncy Caribbean riddims or traditional break beats. And Azeem, who's also a performance poet and playwright, aptly steps to the mic as if he's live on stage with a hyped up crowd before him. Given their unselfishness and full awareness of the potential audience, there aren't many dull moments to be found.
However, Rise Up is not without its flaws. Despite Azeem's strong presence and ability to say a lot within a given track, he can lose focus lyrically, rarely sticking to one specific subject. And collectively one thing these two don't always execute effectively is the chorus/hook — arguably a vital element of a hip-hop song. On "Here Comes The Judge" specifically, Azeem's repeated utterance of the song's title in a whisper-like manner quickly grows tiresome.
Being their first official album together, though, these kinks aren't colossal drawbacks. Following seven years of sporadic collaborations between Zeph and Azeem, Rise Up is a worthy new beginning for two of the Bay's most unheralded talents.
— Max Herman