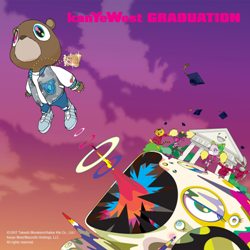 Kanye West
Graduation
Roc-A-Fella

Rating:





As the saying goes, you can graduate from school, but you can't graduate from life. Famously, Kanye West never got beyond his first year in college. So Graduation ostensibly represents his matriculation of the industry, an evolution from talented prodigy into full-blown superstardom.
In keeping with current pop trends for all things electro/disco, West's music has turned glossy and opaque. "Flashing Lights," which its lovely Larry Gold string arrangements and staccato keyboard melody, could be an artifact from the Puff Daddy shiny-suit era. Thankfully, West has mostly dispensed with the florid gospel-like choirs that made Late Registration feel like an overlong sermon. He still uses them in key spots to give his personal drama a religious-like pomposity — on "The Glory," he speeds them up so that they sound like angels singing his praises. For the most part, however, he sings his praises himself.
West's bratty bourgeois aspirations are a matter of record. It was the tension between his hunger for fame and fortune and his socio-political awareness that made his debut The College Dropout wonderfully complex. His thoughts on the Hurricane Katrina catastrophe once made national news. Here, they've been reduced to a throway line, and to mere subtext: "I can't study war," rings the angelic chorus on "The Glory." Meanwhile, he focuses on his manhood, and how he's so attractive that he pulls "dykes." "I'd do anything for a blond dyke/And she'll do anything for the limelight," he says on "Stronger," noting how his manhood can magically convert lesbians into Kanye-loving hoes.
Always an uneven rapper — he's never been able to twist verbs like T.I. and Lil Wayne or had a voice as memorable as Cam'ron — West used to get by with his passionate conviction and a commitment to deep lyricism that seemed refreshingly old-school. Even his soft-porn dreams and egomaniacal overtures would be more compelling if his lyrics on Graduation weren't so lazily composed. It often sounds like he's reading from a copy of Complex and recounting the contents of his shopping bags.
Two of the best tracks, "Can't Tell Me Nothing" and "Big Brother," are produced by DJ Toomp, who lays down an eerie techno-orchestral background for West's narratives. These are his best rhymes on the album. The latter is a stylishly earnest recounting of his relationship with "big brother" Jay-Z, and "Can't Tell Me Nothing" equates monetary wealth with having God-like power: "If the devil wear Prada and Adam Eve wear nada I'm in between but way more fresher." As noxious as those sentiments may be, they're vividly rendered depictions of American money lust. If only the rest of his verses on the album were just as interesting. On "Everything I Am," he attempts to return to the social consciousness of old, and offers a line — "I need to talk to somebody pastor/The church want tithes, so I can't afford to pay" — that sounds ridiculous considering that he bragged of having earned the "I Got the Most Cheese Award" only a few seconds before.
Graduation isn't a bad album. In addition to the aforementioned two tracks, there's "Good Morning," "Champion," and a handful of other knockers that bang. But it's crass and corporate, too. Like a newly-capped graduate facing a mountain of student loan bills, West has grown obsessed with his success and the haters who shadow him, trying to take it away from him. "Wait til' I get my money right," he says. "Then you can't tell me nothing, right?"
West may be a superstar, but he also seems small-minded. Throughout Graduation, he hoards his possessions, his emotions, his ideas, his personality. He gives you a glimpse of his wallet and his clothes, and offers little sound-bites for the TV cameras, before disappearing behind the flashing lights. But if he really had his money right, he could afford to be a little more generous.