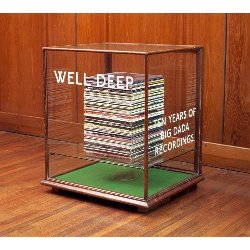 Ten years ago, UK journalist Will Ashon launched Big Dada as a subsidiary of famed electronic imprint Ninja Tune. After a few promising 12-inch singles by the likes of Abstract Tribe Unique and Saul Williams, the label made its first major statement in 1998, Black Whole Styles. A lot of American heads — including myself — didn't start caring about UK hip-hop until that compilation. We paid particular attention to its breakout star, Roots Manuva.
A decade later, Big Dada has accumulated an incredible string of artistic successes, most recently Spank Rock's debut YoYoYo. Diplo, Mke Ladd's unfinished Infesticons trilogy, TTC, New Flesh for Old, Wiley, Cadence Weapon, MF Doom's King Geedorah project, Busdriver, cLOUDDEAD…the list of cutting-edge musicians Big Dada has supported is a long one.
On November 27 in the U.S. (October 15 in the UK), Big Dada will revisit its history with Well Deep: 10 Years of Big Dada Recordings. The compilation features two CDs of key tracks, including an unreleased cut from Diplo ("Now's the Time"). It also includes a DVD packed with a label documentary, a bunch of music videos, and a video megamix that you can play at your next Fader party.
The two-CD track listing for Well Deep: 10 Years of Big Dada Recordings is below.
CD 1:
1. Roots Manuva, "Movements"
2. Ty, "The Tale"
3. Infesticons, "Night Night Theme"
4. Roots Manuva, "Colossal Insight"
5. cLOUDDEAD, "Dead Dogs Two (Boards of Canada remix)"
6. New Flesh, "Wherever We Go"
7. Ty, "Wait a Minute"
8. Majesticons, "Fader Party"
9. Lotek HiFi, "Percolator"
10. TTC, "Dans Le Club"
11. Roots Manuva, "Witness (1 Hope)"
12. Diplo, "Diplo Rhythm"
13. Spank Rock, "Sweet Talk"
14. Wiley, "My Mistakes (Xxxchange mix)"
15. Part 2, "Hard Times"
CD 2:
1. Wiley, "50/50"
2. New Flesh, "Stick & Move"
3. Infinite Livez, "Worcestershire Sauce"
4. NMS, "Super Pretzel (Diplo Damage)"
5. Infesticons, "Monkey Theme"
6. Gamma, "Slang Teacher"
7. Diplo, "Now's the Time"
8. Busdriver, "Beauty Supply & Demand"
9. King Geedorah, "Anti-Matter" (feat. Mr. Fantastik)
10. Ty, "Look for Me"
11. Shadowless, "Killer Apps"
12. Bigg Jus, "King Spitter"
13. Busdriver, "Unemployed Black Astronaut"
14. Lotek HiFi, "Can't Believe"
15. Ty, "Closer"
16. cLOUDDEAD, "Physics of a Bicycle (Peel Session version)"
www.bigdada.com
www.myspace.com/bigdadarecords