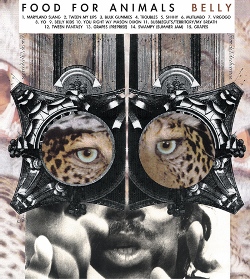 Baltimore, M.D. quartet Food for Animals follows in the tradition of genre-experimentalists — think Shadow Huntaz, Antipop Consortium, and Fat Jon the Ample Soul Physician's work with Pole — that probably sound just as strange to your average true school backpacker as your traditional thug enthusiast. Mixing found sounds, blurring noise, vintage samples and politicized B-boy lyrics, Food for Animals try to meet their musical ambitions with action.
The group's forthcoming album, Belly, comes three years after its debut EP, 2004's Scavenger Class. Set for release on November 27 via Hoss Records, it packs 15 songs into, according their website, "psycho-tropical brutality on one end and absolute freshness on the other."
The track listing is below.
1. "Maryland Slang"
2. "Tween My Lips"
3. "Bulk Gummies"
4. "Troubles (skit)"
5. "Shhhy"
6. "Mutumbo"
7. "Virgogo"
8. "Yo"
9. "Belly Kids"
10. "You Right" (feat. Mason Dixon)
11. "Bubbleguts/My Territory/My Breath"
12. "Tween Fantasy Reprise"
13. "Grapes (Preprise)"
14. "Swampy (Summer Jam)"
15. "Grapes"
www.myspace.com/thefoodforanimals