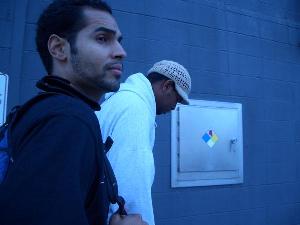 Freshly empowered by its underground success, Washington, D.C. duo Panacea is working on a remix companion to their enchanting second album The Scenic Route. Better yet, they want all you bedroom producers to get involved, too.
Set for sometime next year, The Reroute will include remixes from DJ Spinna (whose version of "Flashback to Stardom" was recently issued on a limited-edition 45-inch single), Nicolay, former Jurassic 5 producer Nu-Mark, Time Machine producer Mekalek, Thes One, and Damu the Fudgemunk (who recently made his name with MC Insight on Y Society's Travel at Your Own Pace.) They're also holding a remix contest.
"This contest allows beat-makers everywhere to remix 'The Scenic Route' – the title track from the new album, and the winner will be featured on The Reroute remix album with the studio superstars mentioned above and others yet to be announced," it reads on Glowlikethis.com, the blog site for Panacea's label, Glow Like This Records. A deadline for submissions hasn't been announced yet; visit the blog for more details.
In related news, Panacea have revealed through a series of Youtube "spoilers" that The Scenic Route is actually a concept piece. I'm not going to post each explanation for every song — you can visit the group's MySpace page yourself for that. Instead, here's the video for "Pops Said."
Plug One review: Panacea, The Scenic Route