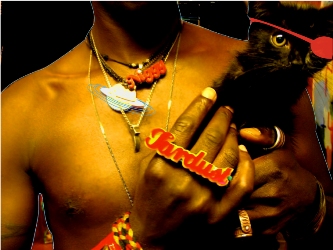 Saul Williams
The Rise and Liberation of NiggyTardust!
Fader Label

Rating:





Saul Williams' third album, The Rise and Liberation of NiggyTardust, is a fantastic and portentous collaboration with Trent Reznor from Nine Inch Nails. This isn't a homage to industrial-strength pop, however, but a cauldron of sonic refernces, among them David Bowie's glam fantasia Ziggy Stardust, Prince's The Black Album, The The's mid-80s spiritual-political diatribe Mind Bomb and TV on the Radio's gospelly arena-punk. Near its center lies "Sunday Bloody Sunday," a surprisingly effective cover of U2's classic protest against the Irish-British war. "Scared Money" rides on a ska-reggae beat; "Tr(n)igger" collapses upon a snippet of Public Enemy's "Welcome to the Terrordome," specifically the line that indicts Huey Newton's assassination "by the hands of a nigger pulled the trigger." It's a broken mirror, both a triumphant salute and a vicious satire of black culture, identity, contradiction and stereotype.
With so much frezied noise surrounding him, it's unsurprising that Williams begins to wind down near the second half. "Banged and Blown Through" has a jackhammer percussive bass and a wash of atmospheric synthesizers, but Williams sings it like a ballad. He talks of being a "broken instrument" looking for inspiration, as if the songs he sang before nearly snapped him in half. "Raise to be Lowered" returns to the murmuring black rock of his 2001 debut, Amethyst Rock Star.
As a coarse statement of uncompromised blackness and a digital music prank, NiggyTardust is heavy stuff. When released on Halloween as a digital-only album that, like Radiohead's In Rainbows, could be downloaded for free or for a small fee, it undoubtedly landed with a thud in the email mailboxes of critics who scrambled to assess its contents, and its reputation suffered as a result. Yes, Williams has a tendency to power-pack his songs with too many ideas and bizarre sounds, and it can be a chore to pick through the morass. A few of the numbers, particularly "Scared Money," teeter over from awkward-sounding concepts and abstract poetry.
But the album rewards repeated listens. "Niggy Tardust," in particular, snaps along hardcore punk thrusts and electronic noise and has some memorable lines. One in particular rings true: "Hardly nervous, suffice to say he understands his purpose/Threshold king of everything/A comical absurdist."
Saul Williams' The Rise and Liberation of Niggy Tardust is available at niggytardust.com.