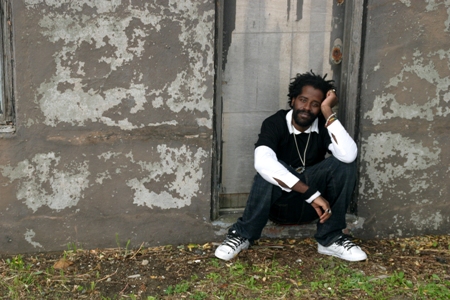 Abstract Rude, the woolly-haired MC who opened for DJ Vadim last year and is opening Brother Ali's "Truth Is Here" tour next month, has signed a deal with Rhymesayers. He has completed a new album, Dear Abbey, set for release later this year.
Abstract Rude is one of the major innovators of 90s underground hip-hop. First appearing on the 1995 classic Project Blowed compilation, he and his group Abstract Tribe Unique recorded the stellar Mood Pieces, which was initially slated to come out on the Beastie Boys' Grand Royal imprint. (They eventually released it themselves in 1998.) Mixing smoky, soulful vocals and brash rhymes, Abstract Rude approaches hip-hop with a jazzman's spontaneity. His sound can truly be described as unique.
Like so many of his Los Angeles compatriots that didn't receive as much publicity as their East Coast counterparts, Abstract Rude has yet to receive his due. With luck, that will change with Dear Abbey.
No track listing is available yet for Dear Abbey. However, a press bio for Abstract Rude reads:
With the funk-tinged banger "TV Show," the thoughtful MC metaphorically contemplates the damaging effects of the "idiot box." On an equally socially awakening note, Ab effectively plays the storyteller on the soul-stirring, "2 Help or Hurt" — the engaging tale of a soldier torn between the love of his country and his fiance. Then on the bouncy "Man Down," Ab aptly declares in a double time flow, "we never fill an album up with one style" as he proceeds to deliver a razor-sharp shot of battle rap.
Exclusively produced by Seattle producer Vitamin D, Dear Abbey is Abstract Rude's first full-length since 2003's Showtyme. "Rest assured this new lp will sound like I took 4 years to make it, lol," Abstract Rude wrote in a MySpace post. "A cpl things got left on the editing floor, but it doesn't hurt anything – shit was just gettin too long is all – we still wanna leave folks wanting more."
Finally, here are those tour dates with Brother Ali:
2/29: High Noon, Madison, WI
3/01: Picador, Iowa City, IA
3/02: WMTU Houghton, Houghton, MI
3/03: Pizza Luce, Duluth, MN
3/04: University of Wisconsin-Stout, Menomonie, WI
3/05: Waiting Room, Omaha, NE
3/06: Fox Theatre, Boulder, CO
3/07: Bluebird, Denver, CO
3/08: Kilby Court, Salt Lake City, UT
3/08: Urban Lounge, Salt Lake City, UT
3/09: The Venue, Boise, ID
3/10: Neumo's, Seattle, WA
3/11: Hawthorne, Portland, OR
3/12: Slim's, San Francisco, CA
3/13: Troubadour, Los Angeles, CA
3/14: Canes Bar & Grill, San Diego, CA
3/15: Club Congress, Tucson, AZ
3/16: Sunshine Theatre, Albuquerque, NM
3/18: Club 101, El Paso, TX
3/19: Prophet Bar, Dallas, TX
3/21: Orpheum, Tampa, FL
3/22: The Social, Orlando, FL
3/24: Cat's Cradle, Carrboro, NC
3/25: Ottobar, Baltimore, MD
3/26: World Cafe Live, Philadelphia, PA
3/27: Bowery Ballroom, New York, NY
3/28: Middle East, Boston, MA
3/29: Nietzche's, Buffalo, NY
3/30: Blind Pig, Ann Arbor, MI
3/31: Abbey Pub, Chicago, IL
2/29-3/31: w/Brother Ali, Toki Wright, BK-One
3/08-3/11, 3/25-3/28: w/Kenny Segal
Photo by Andria Millie.