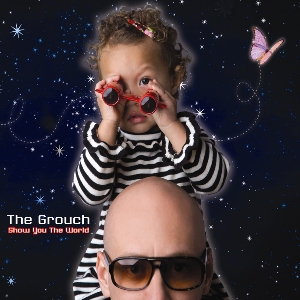 When we last heard from the Grouch, he was making a memorable guest appearance on edIT's acclaimed Certified Air Raid Material. "You ain't artsier than me," he rapped on "Artsy," "because you got sideburns and a vintage T."
With his umpteenth album, the Grouch continues to prove that he can get just as artsy as any self-respecting yoga-practicing L.A. hipster. (Dude's put out so many collabos, solo joints, and demo collections that I've lost count.) Show You the World hits retailers via Legendary Music and Alpha Pup Distribution on April 8.
Guests on Show You the World include Murs, Bicasso, and Scarub from the mighty Living Legends crew, Raphael Saddiq, and Abstract Rude. "I worked on this record for almost threes years," says the Grouch in a press release. "More, this record was an idea that sprang to mind after the birth of my daughter, Rio, in 2006. As soon as she arrived all I could do is think about wanting to show her everything that I love. I was quickly humbled when I realized I was learning as much from her as she was from me."
Show You the World is one of several Living Legends releases set to hit stores this spring. More on that later. But for now, check out the track listing below.
1. "Watch Watch" (feat. Mike Marshall)
2. "Clones"
3. "Artsy"
4. "Favorite Folks"
5. "Yardwork"
6. "God Bless the Elephant" (feat. Abstract Rude)
7. "Show You The World" (feat. Raphael Saadiq)
8. "The Bay to LA" (feat. Murs)
9. "Mom & Pop Killer"
10. "Never Die"
11. "Woman"
12. "Bring It Back"
13. "Hot Air Balloons" (feat. Bicasso & Scarub)
14. "The Time" (feat. Marty James from One Block Radius)
15. "Breath"
Plug One review: Zion-I & the Grouch, Heroes in the City of Dope
www.therealgrouch.com
www.myspace.com/thegrouch