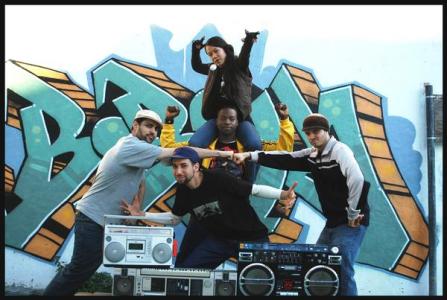 The last Crown City Rockers album, Earthtones, hit stores in 2004. Unfortunately, it doesn't look like another one will come any time soon. Instead, the hip-hop band is branching out with several side projects.
Rashaan Raashan Ahmad, the lead rapper in the Bay Area group, will soon release his debut album, The Push. Set for release on May 20, it features guest shots from DJ Vadim, Eligh, and Chali 2na, the latter who appears on the first single, "City Feel Proud."
As many of you already know, producer Headnodic formed a supergroup with Lateef the Truthspeaker and Gift of Gab from Blackalicious called the Mighty Underdogs. The trio released their debut EP, The Prelude, on iTunes last November; the retail version came out yesterday on March 11. A full-length is scheduled for later this year.
However, you probably didn't know that dude launched another project with Moe Pope, former member of Crown City Rockers (back when they were known as Mission:) and Electric Company. Known as Megaphone, Headnodic and Moe Pope's collaboration drops via NatAural High Records on May 13. It features guest appearances from Oh No, Gift of Gab and Zion-I.
Last but not least, keyboardist Kat 010 dropped an instrumental album, Natural Phenomenons, in 2007. According to the Crown City Rockers website, "Each track brings the listener closer and closer into her musical existence, introducing her growth as a producer while her tracks take you intimately through melodic phrases over electronic yet emotionally driven drum programming."
Sounds lovely…but when is the next Crown City Rockers album coming out? While you wait, check out the track listing for Rashaan Raashan Ahmad's The Push below.
(May 20 update: The correct spelling is Raashan Ahmad. The change has been made in the post.)
1. "Hello"
2. "City Feel Proud" (feat. Chali 2na)
3. "If I"
4. "Weight"
5. "The Crush"
6. "Close"
7. "Give Thanks"
8. "Heavenbound"
9. "Fight"
10. "Ready"
11. "Yusef"
12. "Cancer"
13. "Peace"
www.crowncityrockers.com
www.myspace.com/crowncity