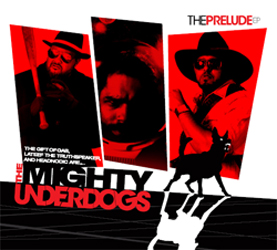 The Mighty Underdogs
The Prelude EP
Giftstribution

Rating:





The Prelude EP is a Bay Area jam session led by the Gift of Gab, Lateef the Truthspeaker and Crown City Rockers producer Headnodic. The Quannum crew tends to vacillate between playful true school workouts and dense concept suites, but this six-song disc veers towards the former, completing its run in slightly over 20 minutes. Short and sweet, it's a nice teaser to the Mighty Underdogs' anticipated full-length later this year.
Several guests drop in on the hip hop party. DJ Shadow cuts up Clipse on the heavy percussive bumrush of "UFC: United Flow Champions." MF Doom (or is it one of his infernal doombots?) drops a dizzyingly narcoleptic verse on the wild West shootout "Gunfight," rapping, "What's the happs/Bust a cap/It's a rap attack." RV Salters from Honeycut adds some hooky synth lines to the hilarious breakup tune "Out of My Life." For the EP's best track, "Bring Me Back," Headnodic loops a familiar sample from Central Line's "Sunshine" (made famous on LL Cool J's "Jingling Baby") as his Crown City Rockers partner, rapper Rashaan Ahmad, drops a familiar-but-still-charming rhyme about Pop Rocks and BMX bikes.