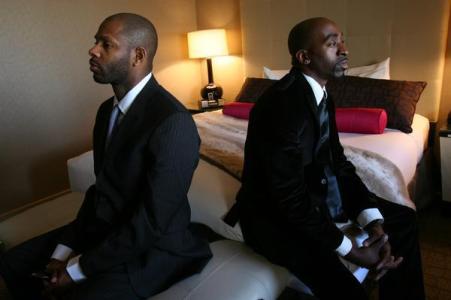 Much has changed since veteran Detroit producers Waajeed and Saddiq joined forces as Platinum Pied Pipers. Their 2005 debut, Triple P, was supposed to herald the future soul movement. But it wasn't until James "J-Dilla" Yancey's untimely death in February 2007 before a world of music fans finally recognized the underground talent that had been bubbling in Detroit for years and had nothing to do with the horrorcore scene (Eminem, D-12, Esham, etc.)
So will Platinum Pied Pipers get their proper recognition this time? Set for an October release on Ubiquity Records, Abundance doesn't feature J-Dilla, who made several memorable appearances on PPP's debut. Instead, Waajeed and Saddiq introduce new singers Karma Stewart (who stars on the debut 12-inch single, "On A Cloud," which drops this week) and Jamila Raegan. Other vocal shots come courtesy of Coultrain and Neco Redd. Given the jam session quality of Triple P, other collaborators may have contributed to Abundance as well.
The first single from Abundance, "On A Cloud b/w Angel," drops July 8. Stewart lends vocals to the A-side, while Coultrain handles the flip.
"Abundance sums up everything; our growth since Triple P, the love and encouragement to make this record that we've gotten from our fans, it means a lot of things," says Waajeed in a press release. "It picks up where the first left-off. Triple P was a great start, but this sophomore album is on another level. It's more involved and focused … it's Electro Soul!"
More details soon.
www.myspace.com/platinumpiedpipers