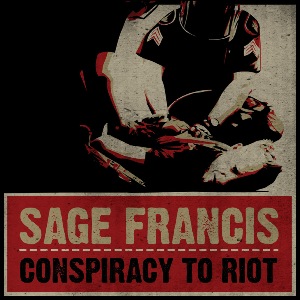 Lots of politically-themed music and events this week as the world enters the final month before the long-awaited McCain/Obama showdown. Next up: A new track from Sage Francis.
Some may remember that Francis wrote one of the best songs on the 9/11 tragedy and its aftermath, "Makeshift Patriot." This time, he honors the protestors at the Republican National Convention; and Jared Paul,  a slam poet/indy journalist covering the protests. You can download the song at the Strange Famous Records website.
Here's a few words from Francis' site:
On Sept 1, 2008 I received a voicemail from Sean Daley (aka Slug of Atmosphere) informing me that my longtime friend, Jared Paul, was sitting in a Minnesota jail cell. This was the first day of the National Republican Convention, a 5 day event that Jared was covering for a Providence publication. I thought to myself "Well…that was quick." And then the dark, disturbing feeling washed over me. Jared Paul is currently in a legal battle with the St. Paul, MN court system, along with hundreds of others who face trumped up charges thanks to the overzealous riot police at the Republican National Convention. Jared is one of many who does not have the appropriate funds to hire proper legal representation and the ACLU of Minnesota is so overwhelmed by the sheer volume of RNC arrest cases that they are unable to provide assistance. What Jared does have is massive support from music and poetry communities. As soon as news of his situation was made public people were in a frenzy asking how they could help out. When bail was granted, Slug graciously posted the fee and waited the entire day and night for Jared's release. I've agreed to front the remainder of Jared's legal fees while creating www.ConspiracyToRiot.com as a way to raise awareness about his situation and accept donations for our cause.
And some words from Jared Paul via his MySpace page:
My long time friend and personal avant Guardian Angel, Sage Francis has made it his business to step into the ring on my behalf. With his help I have retained a quality private attorney and will be walking into court with professional representation; We intend to make it a fair fight this time. …

Wish me, the other arrestees, and all of the thousands of innocent Americans sitting in jail right now because they could not afford a proper lawyer, LUCK! It's time maybe, for all of us to get involved on a different level. To sign on to write letters to prisoners, to lobby for prisoners rights, to work for wrongful convictions to be overturned, and find any ways we can to slow the rise of the Prison Industrial Complex. Innocent folks are in jail right now, it is completely, and utterly unacceptable. I am so thankful for my health and my freedom… Please take care of yourselves and make time to get familiar with the websites of your local Lawyer's Guild and ACLU chapters; the way things are going now, any citizen can seemingly be detained for nearly any reason, any time there are Riot Cops, or any cops around… we're all going to have to get a firmer grip on understanding our rights, how they protect us, and what to do if we, or anyone near us, is wrongfully arrested.
You can read more about Paul's legal travails, download "Conspiracy to Riot," and read a blog he has kept for the Strange Famous site. If you like, you can also donate funds to Paul's legal defense via a PayPal form on the site.