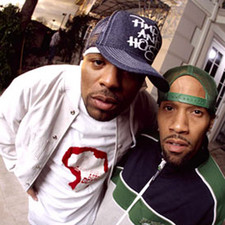 Method Man & Redman will soon hit the road and reprise the tag-team dynamics that dazzled crowds during Rock the Bells this summer. Boston rapper Termanology and Alchemist & Evidence (who just formed a new supergroup called the Step Brothers) will lend support.
Meth & Red are also in the final stages of recording a new album together, Blackout 2, that's tentatively scheduled for a December 9 release on Def Jam. But will the recording process throw the tour off? I find it unlikely — at this stage of their career, the duo probably gets most of its weed money through tours. But the following MySpace bulletin, which each rapper sent out separately on October 8, seems strange.
PLEASE NOTE THAT RED AND MEF ARE IN THE STUDIO WORKING ON THE FINISHING TOUCHES OF BLACKOUT2 COMING OUT DECEMBER 9TH 2008! ALL TICKETS PURCHASED WILL BE GOOD FOR NEW SHOW DATES WE APOLOGIZE FOR THE DELAYS.. BUT THE TEAM WOULD LIKE TO BRING YOU A TRUE SOLID ALBUM PEACE AND SEE YOU ON THE TOUR CHECK THE PAGE FOR THE NEW DATES ~RED AND STAFF
As a result, the tour has been pushed back from its former October 10 launch to October 17, and many of the concerts have been rescheduled. But it appears as if the tour is still on for now. I'll let you know if that changes.
Here's Termanology on the upcoming jaunt:
"I've been listening to Method Man and Redman my whole life and it's an honor to tour with them. I look forward to tearing it down for the fans."
And here's what Alchemist had to say. Unlike Termanology, he and Ev will only be on a few dates:
Redman and Method man have fucked up.
They have actually found the two dudes who smoke more weed than they do to open up for them.
The promoters booked us as the opening act for the Still High tour.
They think we are going to come out and rap.
No.
This has absolutely nothing to do with rap.
Be clear people.
THIS IS A WEED-OFF!!!!!!!!!!!
A no holds barred, bong smashing, blunt exploding cheeba slugfest.
The weed OLYPICS.
Now, see, we practice every sport.
But when it comes to the Bong we are, humbly, untouchable.
Dude sounds like he was high when he wrote that.
10/17: Nokia Theater, New York, NY
10/18: Toad's Place, Richmond, VA
10/19: SONAR, Baltimore, MD
10/21: Bluebird Nightclub, Bloomington, IN
10/22: Mad Hatter, Cincinnati, OH
10/23: Crofot Ballroom, Detroit, MI
10/24: House of Blues, Chicago, IL
10/25: Barrymore, Madison, WI
10/27: First Avenue, Minneapolis, MN
10/29: Ogden Theatre, Denver, CO
10/30: Belly Up Tavern, Aspen, CO
10/31: Murray Theatre, Salt Lake City, UT
11/02: Sportsplex, Bellingham, WA
11/04: Roseland, Portland, Oregon
11/05: Showbox, Seattle, WA
11/06: Humboldt State, Arcata, CA
11/07: Grand Ballroom, San Francisco, CA
11/08: The Catalyst, Santa Cruz, CA
11/09: The Dome, Bakersfield, CA
11/11: House of Blues, West Hollywood, CA
11/13: Canes, San Diego, CA
11/14: Marquee Theater, Phoenix, AZ
11/15: Sunshine Theatre, Albuquerque, NM
11/16: House Of Blues, Dallas, TX
11/18: Stubbs, Austin, TX
11/19: House Of Blues, Houston, TX
11/21: Georgia Theatre, Athens, GA
11/22: Orange Peel, Asheville, NC
11/23: Cat's Cradle, Carrboro, NC
11/25: Norva Theatre, Norfolk, VA
11/26: 930 Club, Washington, DC
11/28: Stone Pony, Asbury Park, NJ
11/29: Trocadero, Philadelphia, PA
12/04: Higher Ground, Burlington, VT
12/05: Palladium, Worcester, MA
12/10: Toad's Place, New Haven, CT
12/12: Lupo's, Providence, RI
10/17-11/29: w/Termanology
10/27-11/11: w/Evidence & Alchemist
11/23-11/29: w/Big Pooh
Download: Method Man & Redman – Broken Language 2008
Download: Evidence and the Alchemist – Hits from the Bong 2009