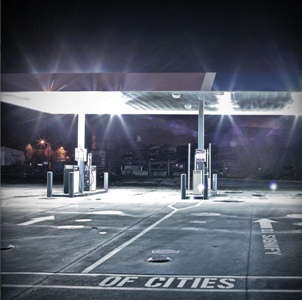 DJ Signify
Of Cities
Bully Records

Rating:





On "Low Tide," Aesop Rock portrays a Julius Knipfl character, a NYC hovel dweller afflicted by visions of Tawny Kitaen's car hood-humping dance on Whitesnake's "Here I Go Again (On My Own)" video. "Built this city outta warm clay bricks, stood outside the walls and harps and sharp sticks, another stray kitten's elated to play chicken, cuz everyday it rain the same array of clay pigeons," he raps over DJ Signify's spooked, hard bap beats. "How low is your lowest low tide?"
Aesop's manifesto arrives near the beginning of DJ Signify's Of Cities: it's the second track on the album. He adds another pie-faced rap on track 11, "Sink or Swim." Between those two numbers, however, Of Cities is a hard nut to crack. It has rain-soaked day riders like "Vanessa," and guitar-tied psych blues such as "Costume Kids" (which is one of a few co-produced by Blockhead). But sonically, it's introverted. It's like DJ Signify has just left the gas station pictured on the album cover and hurtled into the night, and then, an hour after driving in complete darkness with only the radio to break the silence, realized that there's a friend in the passenger's seat.
A few numbers manage to transcend the po-faced trip-hop. There is "Vanessa," and "1993," a moody number with hard funk licks, heavy bass drums and ominous, 78 RPM-speed horns. A known name among avant-hop heads, Signify can craft a long instrumental that sounds relevant and interesting, even if the most interesting sounds often end up as just texture to the ever-present, heavy bass drum beat. Of Cities is good for quiet introspective listening on headphones, but not so good for talky and animated social activities.