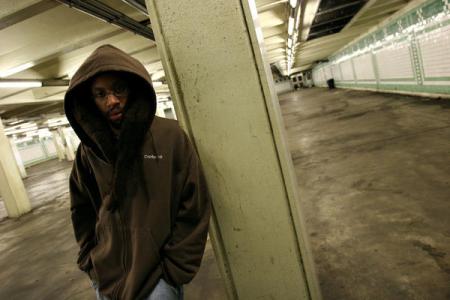 All systems are go for Mr. Lif's first album since 2006's Mo Mega. He has a firm release date of April 21 for I Heard It Today, and will release it on his imprint Bloodbot Tactical Enterprises. There isn't a track listing yet, but Lif has rescheduled his winter tour, which will now take place in the spring.
Here's the bio:
Mr. Lif's albums have always had their finger on the pulse of America but I Heard It Today is his coup du sort. Boldly holding a mirror to the face of society, Lif has blended veteran producers such as Edan and J Zone with up and coming producers Willie Evans Jr., Batsauce, Therapy, and Headnodic to create an album that speaks brazenly about the current political issues and agendas Americans and the global community are facing: fear, paranoia, and angst as the U.S. economy collapsed and the bailout bill passed, self hatred in the Black community, and the housing crisis are just a few of the topics touched on through I Heard It Today. Lif takes these negatives and turns them on their head, using them in search of a healthier way of life and a way to achieve freedom and peace of mind through the power of the imagination. In a true "change starts with you" move, Lif is self-releasing the album on his new Bloodbot Tactical Enterprises label on April 21st 2009.
4/09: Asylum, Portland, MD
4/10: Pearl Street Nightclub, Northampton, MA
4/16: Cedar Cultural Center, Minneapolis, MN
4/17: Sugar, Victoria, BC
4/18: Biltmore Cabaret, Vancouver, BC
4/20: Neumo's, Seattle, WA
4/21: Holocene, Portland, OR
4/23: Nocturnum, Eureka, CA
4/24: Bottom of the Hill, San Francisco, CA
4/25: Pitzer College, Claremont, CA
4/26: Echoplex, Los Angeles, CA
4/27: Casbah, San Diego, CA
4/28: Club Congress, Tucson, AZ
4/29: Chasers Bar and Night Club, Scottsdale, AZ
4/30: The Green Room, Flagstaff, AZ
5/01: Urban Lounge, Salt Lake City, UT
5/02: Marquis Theatre, Denver, CO
5/19: The Barbary, Philadelphia, PA
5/20: Ottobar, Baltimore, MD
5/21: Local 506, Chapel Hill, NC
5/22: The Village Tavern, Mt. Pleasant, SC
5/23: The Earl, Atlanta, GA
5/25: Jack Rabbits, Jacksonville, FL
5/27: Common Grounds, Gainesville, FL
5/29: Spanish Moon, Baton Rouge, LA
5/30: Warehouse Live, Houston, TX
6/01: Palladium Loft, Dallas, TX
6/02: Red 7, Austin, TX
6/03: Sticky Fingerz, Little Rock, AR
6/05: Waiting Room, Omaha, NE
6/06: Triple Rock Social Club, Minneapolis, MN
6/08: High Noon Saloon, Madison, WI
6/09: Abbey Pub, Chicago, IL
6/10: Magic Stick, Detroit, MI
6/12: Skully's Music Diner, Columbus, OH
6/13: Grog Shop, Cleveland Heights, OH
4/18-6/13: w/Willie Evans Jr.
Photo by Jason Messer.