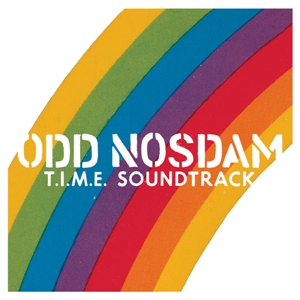 Prolific producer Odd Nosdam has another one coming out, and it's a soundtrack for a skate film. Set for release on March 10 via Anticon, T.I.M.E. Soundtrack originally accompanied the 2007 Element Skateboards DVD This is My Element. It's now being issued as a separate CD.
Here's the usual bio stuff. After that check out the tracklisting, a trailer for the video which features Odd Nosdam's "T.I.M.E. In" and — finally! — an actual MP3.
Created for the Element Skateboards film, This Is My Element, the T.I.M.E. Soundtrack is the first of its kind: an original, artist-composed score crafted to the beat of polyurethane pounding pavement. Here, Anticon's veteran producer and beatsmith Odd Nosdam conceives an album where each song is tailored to fit the style and cadence of the Element rider it accompanies. And on its own, quite simply, this album is a banger.

From its opening moments, the T.I.M.E. Soundtrack menaces thump-driven destruction. "T.I.M.E. In" sports an ominous SP1200-crunched beat that stomps into the fore like Godzilla into Nagasaki, while Nosdam's trademark pops and quirks flit overhead. The Chad Muska-inspired "Trunk Bomb" aggressively boom-baps its way to rhythmic bliss via chopped breaks and arpeggiated synth, while "Fly Mode" (co-produced by Jel and fashioned after the fluid stylings of Brent Atchley) is a loping, folksy instrumental that blows through like a summer breeze. Throughout the T.I.M.E. Soundtrack, Nosdam's approach is decidedly upbeat, mobile and spontaneous; it's the glue that cements the guitar-driven rollick of "We Bad Apples" to the funky minimalism of "Zone Coaster" to the sweet toughness of "Ethereal Slap," seamless despite their fundamental differences in style.
1. "Zone Coaster"
2. "T.I.M.E. In"
3. "Cop Crush"
4. "We Bad Apples"
5. "Trunk Bomb"
6. "Top Rank"
7. "Fly Mode"
8. "Ethereal Slap"
9. "Root Bark"
10. "One For Dallas"
11. "Root Loop"
12. "Wig Smasher"
13. "T.I.M.E. Out"
Here's "Fly Mode":
Here's the video trailer: