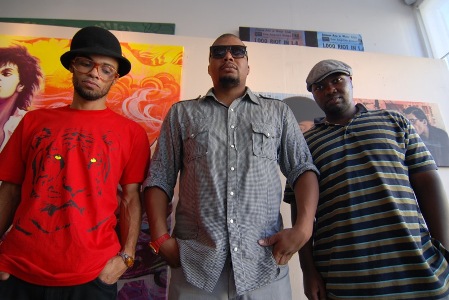 Frequent visitors to this site have noted my respect for under-appreciated St. Louis musician Black Spade. Now the rapper/producer is heading a new project under his Stoney Rock alias.
Hawthorne Headhunters features Stoney Rock, keyboardist/producer I, Ced and L.A. rapper/producer Proh Mic. The three have an EP coming out very soon on HVW8, the famous artist collective internationally renowned for its visual installations celebrating soulful music and underground culture. The self-titled EP — which HVW8 promises in April — features "the crossroads of funk, soul, jazz and hip hop from players already years deep into the game."
You can view several YouTube live sessions and a few demos on the Hawthorne Headhunters website. A preview track, "She Wanna," is also available here as well as below.
Hawthorne Headhunters, "She Wanna"
Hawthorne Headhunters, "Get Up"