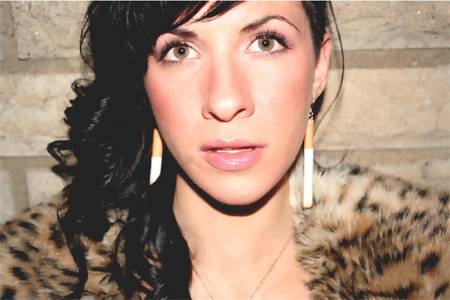 Silver-tongued Philadelphian Amanda Blank goes on tour with Santigold (formerly known as Santogold) next month. She also just released "Might Like You Better," the first track from her soon-to-be released album.
5/21: The Warfield, San Francisco, CA
5/22: Empire Events Center, Sacramento, CA
5/28: First Avenue, Minneapolis, MN
5/29: People's Court, Des Moines, IA
5/31: Ram's Head Live, Baltimore, MD
6/01: House of Blues, Boston, MA
6/03: Phoenix Concert Theater, Toronto, ON
6/04: Metropolis, Montreal, QC
6/06: Festival Pier, Philadelphia, PA
6/07: The Norva, Norfolk, VA
6/09: Terminal 5, New York City, NY
6/10: 9:30 Club, Washington, DC
6/13: The Pageant, St. Louis, MO
6/15: Stubb's, Austin, TX
6/17: House of Blues, Houston, TX
6/18: House of Blues, Dallas, TX
6/21: Hollywood Bowl, Hollywood, CA
5/21-6/21: w/Santigold
6/06: The Roots Picnic
6/21: w/Femi Kuti, Raphael Saddiq
Photo by Leann Greto.