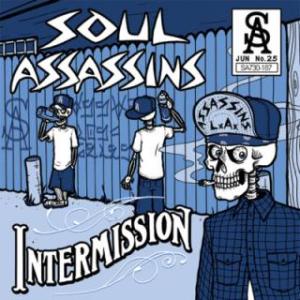 On June 23, influential producer DJ Muggs will present a new collection of Soul Assassins tracks via Gold Dust Media. Intermission features dozens of street rappers, from B-Real (Muggs' partner in Cypress Hill) and Planet Asia (with whom he issued Pain Language last year) to Bun B, RZA, Prodigy, the Psycho Realm, La Coka Nostra, Evidence and many others.
Cue the press excerpt:
DJ Muggs is constantly in the labe; creating remixing and always making things happens as one of the most respected DJs in the game. He's also put in more than his share of work as a producer with a resume that stretches from coast to coast. Muggs' distinct love of west coast funk and heavy doses of hip hop have been responsible for multiplatinum sales and chart topping hits with Cypress Hill, House of Pain and many other artist.

In between being a part of one of the most successful hip hop groups to come from L.A., going on tour and discovering new talent, DJ Muggs has always found time to make music with his crew the Soul Assassins. As one of the founders of Soul Assassins, (a collective of artist, writers, musicians, producers, rappers, etc.) it wasn't hard to assemble a stellar line up for their latest endeavor, Intermission.
1. "Gangsta Shit" (feat. Bun B & M1)
2. "Classical" (feat. Sick Jacken & Evidence)
3. "Gunshots" (feat. Chace Infinite & Alchemist)
4. "Do It" (feat. La Coka Nostra)
5. "Rep Yo Shit" (feat. Sick Jacken & Necro as P.C.P.)
6. "Good Evening LA" (feat. Self Scientific)
7. "Meet Your Maker" (feat. Reef the Lost Cause & Outerspace)
8. "Intermission" (feat. RZA, Rev. William Burk, Planet Asia & B-Real)
9. "Champions" (Remix) (feat. Prodigy & Big Twins)
10. "Let Go (My Life)" (feat. Fashawn)
11. "Like That Y'all" (feat. Planet Asia)
12. "World We're In" (feat. Cynic)
13. "Call It Like I See It" (feat. Chace Infinite & Krondon)
14. "Matchbox" (feat. Dust)
"Classical" feat. Evidence & Sick Jacken