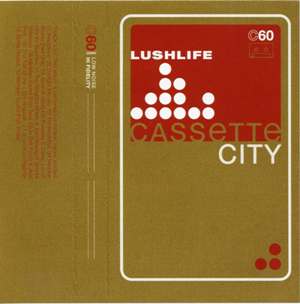 Philly rapper/producer Lushlife has a new album coming out via !K7 subsidiary Rapster. Set for release on June 23, Cassette City features contributions from Camp Lo, Ezra Koenig of Vampire Weekend and Ariel Pink, of all people. While not as well known here as overseas, Lushlife may ring some bells — in 2005 he issued West Sounds, a popular mashup of Kanye West's The College Dropout with the Beach Boys' Pet Sounds. (June 19 update: The release date has been pushed back to July 7.)
Here's some bio action:
Lushlife's sizeable musical reach is as much a by-product of the lessons learned train-wrecking beats for eager audiences, as it is a result of a strict and formal musical education. He has 13 years of classical piano training, having studied from the age of 5, along with an intense 7 year course in jazz kit drumming. Along the way he's arranged for jazz combos and performed on street-corners, at Manhattan's prestigious Steinway Hall, and everywhere in between. Lush went on to study music at university, where after a year spent crestfallen, he finally got out of bed to compose music through the lens of his diverse musical background.

After garnering attention, and millions of downloads, for his Dangermouse-esque mash-up of Kanye West's The College Dropout with the Beach Boys' seminal Pet Sounds, and doing remixes for heavy-hitters like Slum Village, Lush dropped his debut LP, Order of Operations, in early 2006. The album, Lushlife's testament to a decade-plus love affair with hip-hop, was a critical smash. With only a cadre of boutique indie labels behind the release, Order of Operations still managed to move thousands of units worldwide, and even reached number six on the Japanese hip-hop/r&b charts.
Here's the track listing:
1. "Innocence"
2. "Daylight Into Me"
3. "The Kindness"
4. "Meridian Sound (Part One)"
5. "Another World For Paradise" (feat. Camp Lo)
6. "Until The Sun Dies"
7. "The Songbird Athletic" (feat. Ezra Koenig of Vampire Weekend)
8. "Meridian Sound (Part Two)"
9. "In Soft Focus" (feat. Ariel Pink)
10. "The Fall Of The Light Brigade"
11. "Innocence Reprise"
12. "Bottle Rocket"
13. "Meridian Sound (Part Three)"
Jadakiss, "Can't Stop Me" (Lushlife Dub Deck Mix)