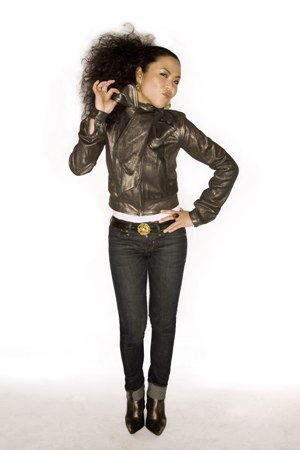 It's been a long time coming for Joyo Velarde. The Bay Area singer has put in work for the Quannum crew since they were known as Solesides, first appearing on Lyrics Born's Balcony Beach. Now, after appearing with husband Lyrics Born on all of her projects, Joyo finally gets a solo release of her own.
First up comes a five-track EP, which drops on May 26 via Quannum. A full-length album is slated for November. Here's the press info:
Joyo Velarde, the female voice behind seminal hip-hop label Quannum Projects hits like "I Like It, I Love It" and "I Can't Wait For Your Love" is finally hitting the scene with songs of her very own. On May 26, 2009, Joyo's self-titled debut EP, an uplifting 5-song look into the singer's vast repertoire, will be available at all digital distributors.

Pulling from the traditions of Minnie Riperton, Chaka Khan, and Tina Marie as well as contemporary R&B singers like Alicia Keys, Solange, Angie Stone, and Raheem DeVaughn, Joyo has truly mastered her craft. Her voice is clean and sure; even when she sings about personal struggles ("Feels Right," for example) there's a strength behind her words, the strength of someone who's had to overcome difficulties to find herself. While Lyrics Born, Joyo's husband, adds instrumental and production touches from time to time, as well as executively producing the album, these songs are her own. Even in the Bobby-Digital-produced "I Need You Boy" (available only on the EP), Joyo's personality is never anything but front-and-center.
Here's the track listing:
1. "Build This World"
2. "The Way We Are"
3. "Feels Right"
4. "Take You Home"
5. "I Need You Boy"
"Take You Home"
Here's the video: