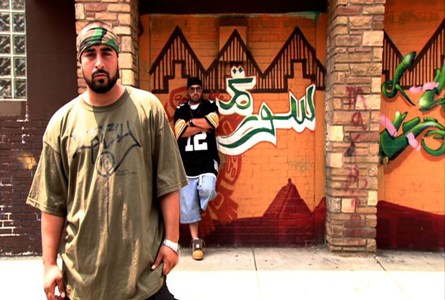 Last night, New Muslim Cool premiered on the PBS documentary series "POV." Directed by Jennifer Maytorena Taylor and co-produced by Taylor and Kauthar Umar, the 90-minute piece focuses on Jason "Hamza" Perez, a Puerto Rican rapper and social worker who tries to live an ascetic Muslim life while dealing with discrimination and other obstacles. Check the "POV" website for future airings.
With modest and elegant camerawork, Taylor pivots New Muslim Cool on a few key elements. Hamza  and his brother Suliman make up Mujahideen Team, a Pittsburgh-based rap group that mixes spiritual messages with political rhetoric. (An early scene captures Mujuhaideen Mujahideen Team at a show freestyling to Immortal Technique's "Bin Laden.") As a former drug dealer, Hamza struggles to reconcile his aggressive street instincts and his Sunni faith. He marries a black single mother after meeting her through a Muslim dating site. He amiably jokes that they'll need to serve "macaroni & cheese" and "rice and beans" at the wedding: "The blacks always go for the Spanish food and the Spanish always go for the black food." But their newlywed bliss is disturbed when Hamza is arrested during a raid of his Pittsburgh mosque by FBI agents for suspiciously vague reasons. Meanwhile, his s social work at a local prison ends when the warden abruptly takes away his security clearance. When Hamza hires a lawyer and contacts the ACLU, the prison chaplain reveals that the warden became concerned after reading an old M-Team interview online; in the interview, M-Team refers to the U.S. government as a "snake" that needs to be beheaded.
Hamza's efforts to grow up, embrace family life and atone for past sins make for an engrossing and powerful redemption song. "POV" tends to highlight documentary film-making as community building, and New Muslim Cool exemplifies this ethos with a tale that both confronts and ameliorates societal biases about Muslims as anti-government fanatics and thugs in veils. (At one point, Hamza joins forces with a Jewish woman to launch an interfaith poetry project, and he reaches out to Christians and Jews during his prison classes.)
But Hamza's inspiring story is missing one element: the music. While there are a few scenes that show him on stage or in the studio, rapping intensely about God and good works, there's little that depicts him actually creating hip hop, or using hip hop as a creative art form. Yes, music can be a vehicle for releasing anger, speaking out against the system, or writing autobiography. But can it be a conduit for flights of imagination, or a narrative greater than realism and sad stories? Those are questions that New Muslim Cool doesn't begin to answer.
Then again, too many hip hop artists, from Public Enemy to dead prez, have mistakenly followed a path of hard realism while forgetting that fantasy is real because it's people who imagine it. (The only fantasies we seem to hear are "street themes" of drug deals gone well or bad.) At one point, one of Hamza's friends notes that Muslim poetry is not only about religious faith, but love, and being loved, and the inner soul. New Muslim Cool has plenty of soul, from lovely scenes of Hamza playing with his new wife and children to his melancholy brooding over a new, unexpected hardship. It leaves you to imagine his inner life.
Photo by Jennifer Maytorena Taylor.
[May 17, 2010 update]: This post has been edited for spelling and grammatical errors.