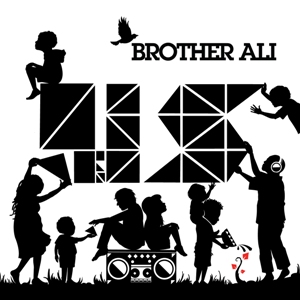 Brother Ali's fourth album, Us, drops September 22 on Rhymesayers. As usual, ANT handles the production, while Joell Ortiz, Freeway, Chuck D. and Stokley Williams from Mint Condition make guest appearances.
Here's the press info:
Brother Ali's last album, the critically acclaimed The Undisputed Truth, was a landmark in hip-hop, an album that carried weight equally with critics and fans alike, an album of bold statements and bolder beats, politically and socially aware without being preachy. His new album, Us (out September 22nd on Rhymesayers Entertainment), is a progression that will make Brother Ali one of the most enduring figures in hip-hop; while still aware, Ali has turned his gaze inward, and started examining the human condition from the outside in. A profound personal glimpse into a vulnerability seldom seen or heard in music, Us touches on the strengths and flaws of the human condition, exploring drug abuse, divorce, homophobia and many more topics that most people are scared to touch in their own lives, much less on an album for the world to see.
Here's the track listing:
1. "Brothers and Sisters" (feat. Chuck D. & Stokley Williams)
2. "The Preacher"
3. "Crown Jewel"
4. "House Keys"
5. "Fresh Air"
6. "Tight Rope"
7. "Breakin' Dawn"
8. "The Travelers"
9. "Babygirl"
10. "'Round Here"
11. "Bad Mufucker Pt. II"
12. "Best@it" (feat. Freeway & Joell Ortiz)
13. "Games"
14. "Slippin' Away"
15. "You Say (Puppy Love)"
16. "US" (feat. Stokley Williams)
Link to "Us": rhymesayers.com