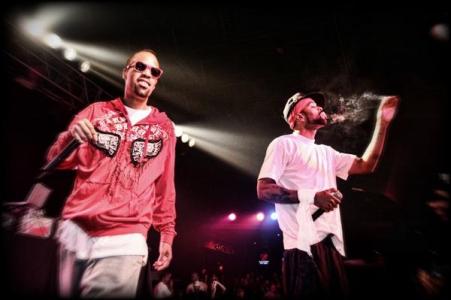 Do I like Method Man & Redman? Sure, although I'm not one of those critics who thought Blackout! 2 was the bee's knees. Am I interested in Snoop Dogg? Not so much, although I thought "Sensual Seduction" was pretty groovy. Pick your poison.
10/27: Rams Head Live, Baltimore, MD (1)
10/28: Starland Ballroom, Sayreville, NJ (1)
10/29: Nokia Theatre Times Square, New York, NY (1)
10/30: Lupo's Heartbreak Hotel, Providence, RI (1)
10/31: House of Blues, Atlantic City, NJ (1)
11/01: House of Blues, Boston, MA (1)
11/03: Vogue Theatre, Indianapolis, IN (1)
11/04: Congress Theatre, Chicago, IL (1)
11/05: Epic, Minneapolis, MN (1)
11/06: Harrah's Voodoo Lounge, N. Kansas City, MO (1)
11/07: Harrah's Casino, Robinson, MS (1)
11/08: House of Blues, Dallas, TX (1)
(1) w/Snoop Dogg, Devin the Dude
Photo by Jason Lyte.