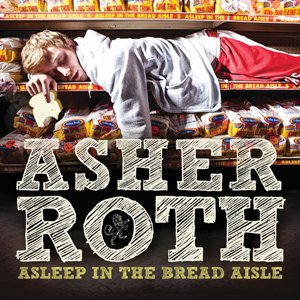 (Note: This review was originally posted on Vibe.com before the company was liquidated and sold to new owners. It is no longer available on the website, so I decided to re-post it here.)
Asher Roth, Asleep in the Bread Aisle
SRC/Universal Motown
It seems only yesterday when Asher Roth drove the Internet nuts with The Greenhouse Effect. Backed by mixtape kingpins DJ Drama and Don Cannon, the Morrisville, Pennsylvania rapper murdered Jay-Z's "Roc Boys" and the Cool Kids' "Black Mags," shooting from unknown status to viral sensation in record time. Hip hop fans debated whether Roth was the second coming of Eminem, or just a record industry gimmick designed to exploit the ever-popular "white rapper" phenomenon. Those same critics will wonder why Roth's Asleep in the Bread Aisle hits stores mere months after he signed his SRC deal, while talented black MCs with label deals sit in limbo for years. (Hello, Bishop Lamont!)
Blame Asleep in the Bread Aisle's accelerated release on "I Love College," an amiable ode to weed, women and $1 pizza slices set to Weezer's "Say It Ain't So" that got much love from MTV last winter. Here, the frat-boy anthem drops early in the album's sequence along with "Lark on My Go-Kart," where he references Teddy Ruxpin and Tim Duncan over a crunchy 70s rock beat. Admirably, Asher never pretends to be anything other than what he is: a nice suburban kid who can rap his ass off.
After that promising start, however, Asher loses focus. He floods the Bread Aisle with a series of interesting pop ideas ruined by bland chorus lines. For "Sour Patch Kids," he twists some nice socially-conscious lyrics over a propulsive blend of Rhodes piano and garage-rock beats: "Don't hate your dollas/Raise a child up/Help a mother, save a father/'Cause poverty is probably our biggest problem/And it ain't gonna stop with Obama/To save the world we must start at the bottom." Then he falters with another lame hook: "Take me away, take me away from here." An amusing tale of a nightmarish airplane flight gets saddled with a torturous Jazze Pha appearance on "Bad Day." Asher even tries to slide on the club rap fad, with little success, on "She Don't Wanna Man."
It's hard to blame him for the weak sauce. In their zeal to rush Asleep in the Bread Aisle to market and capitalize on "I Love College's" MTV success, SRC didn't give Asher enough time to develop as a songwriter. His saving grace is his modesty and self-awareness. On "As I Em" he bravely acknowledges comparisons to the great Slim Shady over a rousing rock steady track from Chester French, then answers "If you have no other questions and have no other thoughts, then I'd like to introduce you to Asher Paul Roth." But for all of his touted promise, Asher might need to study the game for a few more years before he's ready to graduate.