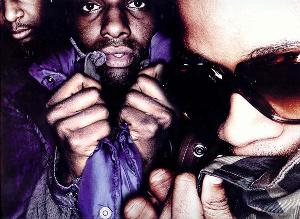 In a recent Pitchforkmedia.com news story, the three members of Antipop Consortium announced that they have reunited.
Antipop Consortium may be one of the most distinctive rap acts of the past decade. Their name, motto — "disturb the equilibrium" — and blend of experimental techno with freestyle raps laid the foundation for the future soul movement that courses through underground music today.
Beans, High Priest, and M. Sayyid banded together as Antipop Consortium in 1997 — with Earl Blaize handling much of the production — and issued several limited-edition mixtapes (some of which were collected in the Japan-only compilation Shopping Carts Crashing) before releasing their debut, 2000's brilliant Tragic Epilogue. A second album, Arrhythmia, came in 2002 before the trio fractured from intra-band tensions.
Beans went on to drop two well-received solo albums on Warp, and has finished a third album, Thorns, for release next year. High Priest and M. Sayyid pursued careers apart and as a duo, Airborn Audio. High Priest dropped his first solo album, Born Identity, last February.
In the Pitchforkmedia.com story, the group chose not to dwell on Antipop's initial breakup, which shocked fans at the time. "Everybody's examined their own individual selves as well as their relationships in the collective, and it's just about moving forward, not so much about the past," says M. Sayyid.
"It's about having my friends back. That's the number one motivation," continues Sayyid. "I can't stress that enough to the people out there who supported us, how great we feel just being back, putting bars on things. APC represents not always being inside the lines, represents that creative freedom, so that's another reason why I'm real happy to be back on deck. I'm just really happy to be experimenting and trying new ways to break up flows, to break up productions, having my man Blaize, having Beans in the mix. That gives me an extra push to just kill it."
Ostensibly a new Antipop album and tour are in the works, but nothing has been announced yet. In the meantime, it seems that Beans is no longer with Warp, as the article mentioned that he's releasing Thorns himself as a digital album. At any rate, it's very good to have Antipop back.
Here is the Thorns track listing, according to the story:
1. "Thundermouth"
2. "Fearless Leader"
3. "Best of the Losers"
4. "Fingers"
5. "No Thrills" (feat. Holy Fuck)
6. "We Rock"
7. "Sudden Death Academics" (feat. Holy Fuck)
8. "Beauty of a Beast on a Beat"
9. "Razor Boss" (feat. Holy Fuck)
10. "MVP"
11. "In Effect"
12. "Return of the Gold Skull"
13. "Ultimate"
www.myspace.com/arrhythmiapopconsortium