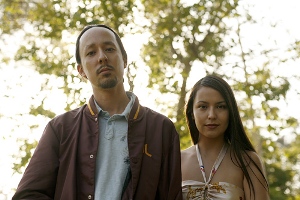 Alpha Pup, the West Coast indie label and digital reissue company founded by producer Daddy Kev and his fiance Danyell Jariel (pictured above), is prepping a full slate of releases for fall 2007.
Tagged by XLR8R magazine as one of "ten record labels to peep in the months ahead," Alpha Pup's recent catalog includes Subtitle's Terrain to Roam and Scream Club's controversial queer-rap epic Life of a Heartbreaker. In August it issued underrated L.A. producer Omid's instrumental suite Afterwords 3.
The big title on its schedule, however, is edIT's Certified Air Raid Material. Once primarily an IDM jock, edIT has been tearing up L.A. nightclubs with his glitchy hip-hop mixes. He brings a similar aesthetic to his second album, collaborating with the Grouch, Abstract Rude, Busdriver, TTC and DJ D-Styles. Certified Air Raid Material drops as a digital release on September 18, and in physical CD form on October 9.
Next up is Carlos y Gaby, a collaboration between producer Carlos Nino — who issued the excellent tone poem Fill the Heart Shaped Cup with multi-instrumentalist Miguel Atwood-Ferguson last February — and vocalist Gaby Hernandez. The duo's La Voz Sabia De Los Cosmos comes out October 16.
Other releases set to arrive in the near future including a previously-mentioned concert album from Daedelus, Live at Low End Theory; and a much-blogged-about collaboration between Daddy Kev and Nick Thorburn from the Canadian rock band Islands. Daddy Kev and Thorburn have banded together as Reefer, and their The Life Narcotic "mini-album" is scheduled for early 2008. LA personalities like Existereo (last seen on tour with 2Mex), Kail, and 2007 Scribble Jam champion Nocando also have projects in the works.
Alpha Pup's current focus, however, is edIT's Certified Air Raid Material. The DJ is currently building a mini-empire with Glitch Mob, a DJ crew that also includes Ooah, Boreta, Kitty-D and Kraddy. The team has launched a record label, Glitch Mob Unlimited, and often wrecks clubs together.
Below is the track listing for Certified Air Raid Material.
1. "I Slay Crowds"
2. "Battling Go-Go Yubari in Downtown L.A."
3. "Artsy Remix" (feat. the Grouch)
4. "Certified Air Raid Material"
5. "Night Shift" (feat. Abstract Rude)
6. "Straight Heat"
7. "The Sirens"
8. "Back Up Off the Floor Pt. 2" (feat. the Grouch)
9. "Fire Riddim"
10. "If You Crump Stand Up"
11. "Crunk De Gaulle" (feat. TTC, Busdriver and D-Styles)
12. "Strip Club 3000"
And here's an itinerary of edIT's upcoming gigs:
9/15: SomArts Cultural Center, San Francisco, CA
9/21: private property, Angels Camp, CA
9/27: Bill's Bar, Boston, MA
9/29: Downtown L.A., Los Angeles, CA
10/01: Enormous Room, Boston, MA
10/05: Love, New York City, NY
10/06: afterhours location, Montreal, CA
10/10: Low End Theory, Los Angeles, CA
10/12: The King King, Los Angeles, CA
10/13: Mansion 242, Chapel Hill, NC
10/27: The Ogden, Denver, CO
11/09: 1015 Folsom, San Francisco, CA
9/15: w/Kelpe, Rena Jones, Shen, Deru, Tycho, RaNDom, Nalepa, Dr. Toast, Anasia
9/21: Symbiosis Gathering
9/29: Nocturnal Wonderland
10/05: w/Sub Swara
10/06: Pop Montreal