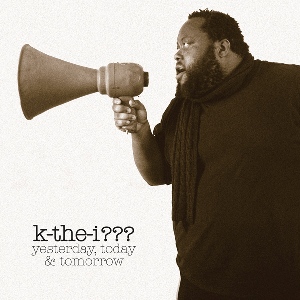 On October 30, Mush Records will release K-The-I???'s Yesterday, Today and Tomorrow, an album completely produced by L.A. beat vet Thavius Beck.
"After the man known as Kiki relocated from Cambridge to LA in '07, after 2 months of sweating in a hot ass room at the Mush house in the dead of summer, after another 2 months of waiting for verses from High Priest (aka Hprizm) and Big Jus (and after only getting one of them… but thats a story for another blog), the hard work has paid off," writes Thavius Beck in a MySpace post.
The elliptically-named K-The-I??? is a rapper of protean strength, and given to broken poetry that can be both powerfully moving and frustratingly cryptic. His 2006 debut, Broken Love Letter, drew respectable reviews and fans in like-minded avant-garde rappers, many of whom appear on Yesterday, Today and Tomorrow. They include High Priest, Busdriver, Mestizo and Subtitle. Meanwhile, Thavius Beck, formerly known as Adlib and one-half of Lab Waste (along with Subtitle), has benefited from increased exposure for his work on Saul Williams' acclaimed The Rise and Liberation of Niggy Tardust!
"Me and Thavius worked real hard on this record and put all are [sic] time, blood, sweat and tears into making this record sound fresh, brand new and creatively original," writes K-The-I??? on his MySpace page.
The track listing for Yesterday, Today and Tomorrow is below.
1. "400 on the BPM"
2. "Before the Session"
3. "Trading Places" (feat. Nocando)
4. "Decisions"
5. "Cell-Shaded/Daydreams/Nightmares"
6. "Marathon Man" (feat. Thavius Beck)
7. "Let's Make Moves" (feat. Vyle)
8. "Lead the Floor"
9. "Stylin'" (feat. Subtitle)
10. "Never Heard It Done Like This" (feat. High Priest)
11. "Just Listen"
12. "Sabbath Faster" (feat. Busdriver)
13. "Finger Painting"
14. "Man or Machine" (feat. Mestizo)