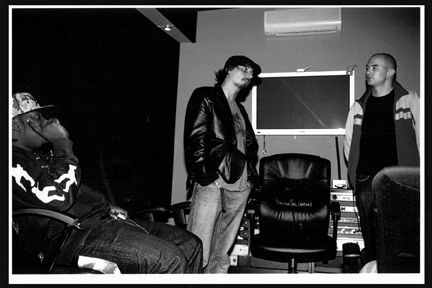 Ninja Tune veteran Amon Tobin has long flirted with hip-hop rhythms, even as his music largely tends towards massive breaks and dark, sinewy drum-and-bass rhythms. But with Two Fingers, his new project with Joe Chapman (a.k.a. Doubleclick), Tobin brings that influence to the fore.
Two Fingers made their debut last year on Ninja Tune's You Don't Know: Ninja Cuts compilation. However, the group's self-titled debut bows on Canadian label Paper Bag Records (Sally Shapiro, Tokyo Police Club). Set for release April 14, Two Fingers features several appearances from Sway, the UK MC best known for his 2006 debut This Is My Demo; as well as former Timbaland/Beat Club artist Ms. Jade and dancehall rapper Cecile.
Here's a bit from the press release:
A truly international project, Two Fingers conjures up images of Blade Runner re-enacted in South Tottenham – an urban snapshot of the future filtered through a hi tech lens. Birthed as a transatlantic experiment, Amon and Joe's attempts to graft drum and bass production techniques to hip hop templates resulted in something truly unique. In fact, acclaimed North-London MC Sway was so taken by the demos he heard that he flew straight out to Montreal and recorded seven tracks with them. The remaining rhythms of the album's 12 tracks were voiced by sometime Missy Elliot protégé Ms Jade and dancehall legend Cecile.
1. "Straw Men" (feat. Sway)
2. "What You Know" (feat. Sway)
3. "Better Get That" (feat. Ms. Jade)
4. "Two Fingers" (feat. Sway)
5. "That Girl" (feat. Sway)
6. "Keman Rhythm"
7. "Jewels And Gems" (feat. Sway)
8. "Bad Girl" (feat. Cecile)
9. "High Life" (feat. Sway)
10. "Doing My Job" (feat. Ms. Jade)
11. "Not Perfect" (feat. Sway)
12. "Moth Rhythm"
Download: Two Fingers Mix