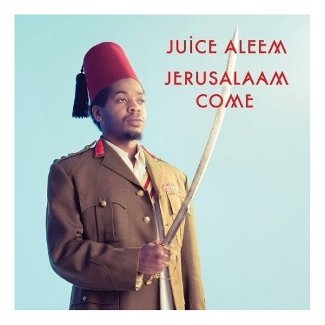 British hip hop fans stand up: Juice Aleem, an oft-recurring guest on Big Dada product throughout the decade, will finally get a longplayer of his own. Set for release on September 1, Jerusalaam Come combines Aleem's eccentric, ragga-inspired rhymes with dank, grimy beats. Think New Flesh for Old and Roots Manuva (whom, alas, do not appear on this one).
Here's a better explanation from the bio:
Juice Aleem, long-acknowledged as one of the finest MCs the UK has ever produced, finally goes solo. The sometime New Flesh and Gamma frontman who has also worked with Coldcut, Hextstatic, Evil 9 and Adam Freedland amongst many, many others, has decided that at last it's time to go for self.

"Jerusalaam Come" is the result – thirteen tracks of varied beats and broad musical influences held together by Juice's unique lyrical style and mental dexterity. Largely produced by Gamma/Shadowless legend Blackitude, it's an album which is both as raw and as sophisticated as the minds who have made it. …

There's no pretence with Juice Aleem – the working title of this album "This Is Not For Everyone". If you're not interested in lyrical intelligence, in hip hop, in MCs with something to say, in Blackitude's skank-funk, in ragged intellect, in ideas, in difference, in coming correct, then you may as well give it a miss. It's an over-used phrase, but in terms of what hip hop is supposed to be about, Juice Aleem is the real deal. If you prefer the fake deal, the trendy bullshit, constant novelty without substance, then turn off now.
Want more? Here's the track listing:
1. "First Lesson"
2. "Straight Outta B.C." (feat. Cipher Jewels & Blackitude)
3. "The Fallen (Gen 15.13)"
4. "Who Is He?" (feat. Tomz & Blackitude)
5. "Rock My Hologram"
6. "U4MI" (feat. Afua)
7. "KunteKinTeTarDiss"
8. "Higher Higher"
9. "You Shut The ____ Up"
10. "The Killers Tears"
11. "Church Of Rock"
12. "Blues Block Party"
13. "Sang Real"
14. "Tings Get Heat Up"