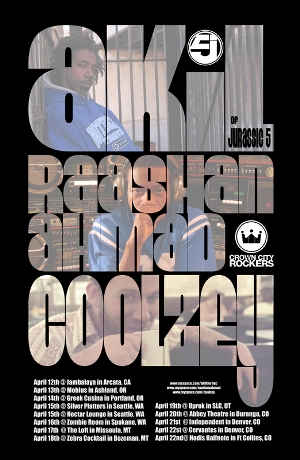 I already told you that positive hip hop advocate Raashan Ahmad drops his debut, The Push, via Om Records on May 20. Before that happens, though, he'll lay the groundwork for a successful release with a brief tour.
His running partner for this West Coast run will be Akil the MC, late of Jurassic 5. Since J5 unexpectedly broke up last year, little has been heard from the quintet, save for a promise from Chali 2na that his long-delayed album, Fish Outta Water, will be out soon. (Interestingly, Chali 2na appears on The Push's first single, "City Feel Proud.") Expect Akil the MC to bring everyone up to speed on his solo endeavors, including his new crew, Unified Skill District. And for those who like scouting new talent, there's Coolzey, an irreverent comedian from Iowa City, Iowa.
The itinerary is below.
4/12: Jambalaya, Arcata, CA
4/13: Mobius, Ashland, OR
4/14: Greek Cusina, Portland, OR
4/15: Silver Platters, Seattle, WA (in-store)
4/15: Nectar's, Seattle, WA
4/16: Zombie Room, Spokane, WA
4/17: The Loft, Missoula, MT
4/18: Zebra Cocktail Lounge, Bozeman, MT
4/19: Uprok Records, Salt Lake City, UT
4/20: Abbey Theatre, Durango, CO
4/21: Cervantes, Denver, CO
4/22: The Independent, Denver, CO (afternoon show)
4/22: Hodi's Halfnote in Fort Collins, Colorado
5/16: The Key Club, Hollywood, CA
4/12-4/22: w/Akil the MC, Coolzey
5/16: w/Crown City Rockers, People Under the Stairs