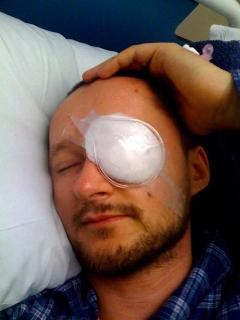 DJ Vadim has posted an amazing essay about his ongoing bout with ocular melanoma (eye cancer). I don't mean to get all McPalin, but it is truly a demonstration of the wonder of the Internet that Vadim could post such an essay and reach his fans immediately and unfiltered.
I'm not going to try and excerpt any of it here. Instead, I encourage everyone to visit his MySpace blog and read it for themselves.
For those who don't know who DJ Vadim is, he's one of the leading lights of the "downtempo" era of the mid-90s. His second album, 1996's USSR Repertoire (The Theory of Verticality), is a classic. He's continued to release excellent material since, including last year's The Soundcatcher. Get familiar.