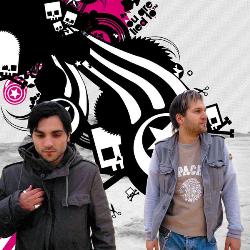 Funkstörung has split up. Chris de Luca and Michael Fakesch announced the group's end through a statement posted on their website last month. "Whatever the reasons were: musical differences, personal problems, the distance of 700 KM between Rosenheim and Chris' new place in Berlin – who cares … fact is we both agreed it's better to focus on solo projects from here on out," wrote the duo.
Though they never achieved the success of Prefuse 73, Funkstörung (German for transmission interface) was a leader of the short-lived IDM/hip-hop interface alongside Autechre, Kid-606, and Push Button Objects. Their 1999 collection Additional Productions, a compilation of remixes for Björk, Wu-Tang Clan and others, is considered a minor classic of modern electronic music. In the States, they're best known for 2000's Appetite for Disctruction and 2004's Disconnected, both released on !K7 Records. The latter was arguably their best full-length album, and found them incorporating warm future soul as well as their trademark glitchy hip-hop.
According to his MySpace page, de Luca (who issued an album with rapper
Peabird
called
Deadly wiz da Disco
in 2002) is working on a new project with techno artist
Phon.o
. Meanwhile, Fakesch reports on his MySpace page that he's preparing a new !K7 album with vocalist
Taprikk Sweezee
. He also posted a new, unreleased remix of
Herbert's
"Something Isn't Right" (from Herbert's acclaimed
Scale
.)
To document their history together, Funkstörung relaunched its official website as Funkstörung Complete. The site allows you to listen to their complete discography, including unreleased remixes, as well as videos and other esoterica.
In a statement posted on October 5, the duo writes, "This website will serve as an official retrospective of basically anything that we ever touched as Funkstörung. The concept may seem a little unorthodox. But then again, we have never been massive conformists."
www.funkstorung.com
www.michaelfakesch.com
www.myspace.com/michaelfakesch
www.myspace.com/chrisdeluca