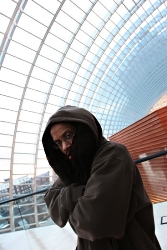 Last week, Definitive Jux artist Mr. Lif launched a new podcast, Yo! Football Radio, with RhymeCity Records owner Jason Griffin. On the hourlong show, the duo offer some dense analysis of week four in the NFL.
"One thing you will know about our radio stuff is that we will flash some stats at you. But generalization is probably my specialty," says Lif.
"We're about 50/50 on our stats," adds Griffin.
"But that's why it's by the fans for the motherfuckin' fans," says Lif.
If football isn't your sport, you can see Mr. Lif doing what he does best: rocking shows. The Beantown MC is heading out on a worldwide tour in support of his second album, Mo' Mega, that reaches the U.S. in November.
11/24: Nighlight Lounge, Bellingham, WA
11/25: Neumo?s, Seattle, WA
11/26: Berbatis Pan, Portland, OR
11/28: The Independent, San Francisco, CA
11/30: Knitting Factory, Los Angeles, CA
12/01: House of Blues, San Diego, CA
12/02: Chasers Bar & Nightclub, Scottsdale, AZ
12/03: Abbey Theatre, Durango, CO
12/05: Fox Theatre, Boulder, CO
12/06: Quixotes, Denver, CO
12/08: Gardner Lounge (Grinnell Main hall basement), Grinnell, IA
12/08: The Abbey Pub, Chicago, IL
12/09: The Grog Shop, Cleveland, OH
12/12: The Mod Club, Toronto, ON (Canada)
12/13: Foufounes Electriques, Montreal, QC (Canada)
12/15: Paradise Lounge, Boston, MA
12/16: BB King's Blues Club & Grill, New York, NY
12/17: Ottobar, Baltimore, MD
12/18: Black Cat, Washington, DC
12/19: First Unitarian Church Sanctuary, Philadelphia, PA
www.mrlif.com
www.myspace.com/mrlif
www.rhymecity.net
www.myspace.com/rhymecity
Download: Yo! Football Radio, Week 4