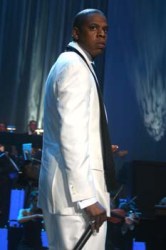 Three years after The Black Album and his "retirement" from the rap game, Jay-Z finally returns with his 9th album of original material, Kingdom Come. The disc is scheduled for release via Roc-A-Fella/Def Jam on November 21.
Last week the
Def Jam
president "leaked" what may become the most overanalyzed MP3 in history,
"Show Me What You Got."
An
in-depth history
of the song by Jay-Z and producer
Just Blaze
is available for perusal at
XXL
magazine, and a
video
will debut on
MTV
on Oct. 16.
Meanwhile, Nas is launching the hype machine for his new album. The title was tweaked from Hip-Hop is Dead? to Hip-Hop is Dead…the N, and its release date was pushed back from November 7 to December 19. The first street single is "Where Y'all At."
The success or failure of these two albums — and Jay-Z's Kingdom Come in particular — will not only test the commercial potency of mainstream hip-hop, but the solvency of a formula (big-name producers, high-profile guest artists) that has dominated New York rap culture since the Notorious B.I.G.'s Ready to Die in 1994. Will these projects last beyond to-be-expected huge first-week sales (expect Jay-Z to debut with over 500,000 SoundScans)? Will they reaffirm hip-hop as a cultural force to be reckoned with, and not just a fountain of novelty dance hits and lurid tabloid headlines?
Stay tuned.
Stream: "Show Me What You Got"
Stream: "Where Y'all At"