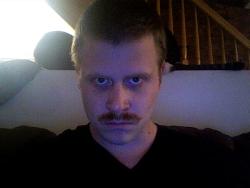 Over five years after issuing its first record, a classic double-A side 12-inch by Company Flow and Cannibal Ox, Definitive Jux is poised to mount a major comeback in 2007. One of the most critically-acclaimed underground rap imprints of the new century, Definitive Jux has been relatively quiet during the last two years. In 2006 it only released one album, Mr. Lif's Mo' Mega, and a slew of Internet-only tracks via its online store The Pharmacy. If the label follows through on its plans, which it announced via a press release earlier this month, that will soon change.
First up is Definitive Jux Presents Vol. 4, a compilation showcase of the label's roster. After that arrives label co-owner El-P's I'll Sleep When You're Dead. Tentatively scheduled for March 6, it comes five years after his solo debut, Fantastic Damage. On Oct. 4 El-P gave a major interview to Pitchfork and revealed his guests for the album, which include Trent Reznor, Cat Power, the Mars Volta, and of course Def Jux associates like Aesop Rock.
Minneapolis turntable iconoclast Mr. Dibbs is collaborating with El-P on many of the tracks. The duo are documenting their progess through two blogs: I'll Sleep When You're Dead and I'll Sleep When El-P Takes His Foot Off My Neck. This summer El-P dropped a teaser single, the amazing "Everything Must Go," through MySpace and the Pharmacy.
I'll Sleep When You're Dead sets the tone for new albums from Rob Sonic, Aesop Rock, Cage and Camu Tao. Definitive Jux will also reissue a deluxe edition of Company Flow's 1997 classic Funcrusher Plus. Originally scheduled for release this fall, the disc reportedly includes new tracks from Co-Flow — El-P, Mr. Len and Bigg Jus — and a DVD of the group's final performance on March 29, 2001.
Here is Definitive Jux's tentative schedule for 2007:
January: V/A, Definitive Jux Presents vol. 4
March 16: El-P, I'll Sleep When You're Dead
April: Rob Sonic, Sabotage Gigante
May: Aesop Rock, TBA
June: Camu Tao, TBA
July: Cage, Depart from Me
August: Company Flow, Funcrusher Plus 10 Year Anniversary and Concert DVD
October: Cannibal Ox, TBA