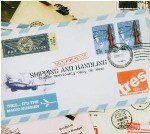 Tres presents Shipping and Handling
Tres Records

Rating:





Tres Records is being nice. With the release of Shipping and Handling, the L.A. imprint unleashes all of the B-sides, rarities and remixes it previously released exclusively on wax. As the number of fans familiar with the phrases "pitch adjustment" and "tone arm" continues to dwindle, the elitist vinyl collector mentality may have begun to pinch the label's pocketbooks. With Serato as an option, even DJs are becoming apt to purchase MP3 as opposed to vinyl. Whether it's a smart business move or a way to look out for their fans, the bottom line is that Tres is spreading the love by releasing this double disc compilation.
To kick the whole set off, co-founder and flagship artist Thes One from People Under the Stairs delivers "Noonen," a track inspired by the Caddyshack character. A floating sample phases in and out over the head jerking drum break, and Thes One delivers lyrics on how life has changed in his elder years in the hip hop world: "So the moral, I'm getting up at eight o'clock/Come on Noonen, you getting older, gotta stop/So I'm setting the clock for sunrise/And whatever lies ahead/I'm facing it by getting outta bed." Another track to check for is Lightheaded's "Surprise Cypher II." Here, production credit goes to new school powerhouse Ohmega Watts as he masterfully reworks the same Minnie Ripperton sample A Tribe Called Quest tapped for "Lyrics to Go." Ta'Raach, an MC with a gully approach to his beats and rhymes, gets his time to shine on tracks such as "Yeah" and the David Axelrod bass-laden "Heaven." The Detroit native's style nicely offsets the lighter, backpacker-esque sounds of his fellow Tres artists, rounding out the compilation and offering a little something for everybody.
— James O'Connor